Every semester the Terpsichorean Dance Company puts on a sold-out show with students, family members, and community members coming to see some of SUNY Oneonta's most talented dancers.
The theme for this semester's show was "Terps Goes Viral," and the dances revolved around some of the hottest topics that have gone viral this past year.
Jesse Gardner, Stephanie Rounds, Jared Harvin, and Avalon McCaslin-Doyle of the Laugh Club hosted the shows on December 3, 4, and 5.  The hosts brought audience members up on stage to play games and have dance offs, and had everyone participate by using hashtags such as "TerpsGame" and "TerpsShame."
In addition to interacting with the audience, the hosts worked together with the dancers to create skits to put on between dance numbers.  The skits revolved around the "Terps Goes Viral" theme and were about a Tinder date gone wrong, which dancer has the best Instagram, and what is most likely to happen when someone tries to Netflix and chill.
Female A Cappella group Pitch Slapped performed the song "Lay Me Down" by Sam Smith, and Lauren Giacalone and Monica Kelly rocked their solos.
The first number was "Get Lucky" choreographed by Kennedi Rabideau, who took this upbeat pop song and made a tap dancing routine that set the tone for the great night of dancing ahead.
"I Am Army Strong" was a powerful dance choreographed by Heather Miller and Tabitha McGill.  The performers wore army jackets and had sharp movements and perfect syncrhonization that would make any soldier proud.  The dance concluded with an American flag flying high and a light shining bright on it.
The following dance took on more of a lighter note.  Meghan Foley and Chrissy Leger choreographed "Recess", which brought back memories of Disney's television show Recess by using the theme song, but taking an unexpected turn and making the dance a hip hop routine.
The second to last dance number was "Asylum", choreographed by Melissa Colodner and Kristina Lauterborn.  Even if an audience member has never seen the show American Horror Story: Asylum, they still would have gotten chills from this dance.  The performers wore medical gowns and played the roles of patients stuck in an insane asylum.  The dancers moved in the type of way you would see someone who is possessed in a horror movie, and the lighting effects added to the creepy atmosphere.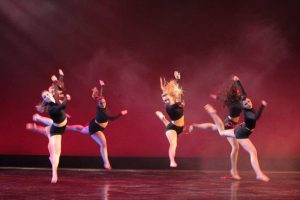 The finale was introduced by a collection of SnapChats from the Terps team, and then all of the dancers came out to dance to the song "Shut Up and Dance" by Walk the Moon to close the show.
The hard work and dedication of the members of Terpsichorean Dance Company truly shows in their performances.  The Terps Show is one that you don't want to miss, so be sure to get tickets next semester and come support SUNY Oneonta's talented dancers