Cheyenne Dorsagno, Copy Editor & Averi Amsterdam, Staff Writer 
The longer that you have known someone, the more difficult it is to think of new gift ideas for them every year. However, this does open up the opportunity to get them more thoughtful, intimate presents. Homemade gifts can be the best for showing compassion and are usually a guaranteed hit because most people will be instantly impressed by the fact that you actually made something! Ev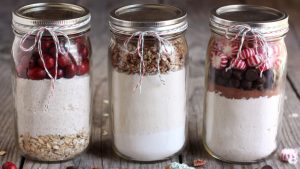 en better, they can be completely free or require a small investment in materials, resulting in a lot of saved money during the expensive holiday season.
Whether you are shopping on a budget or trying to get crafty with your gifts, here is your guide to help you find that perfect present for everyone on your list without wiping out your bank account.
The easiest, yet most touching, gifts can be written. Many people refrain from this because they are self conscious about voicing their feelings or about their writing abilities. However, writing someone a simple card, letter, poem, song, story, record of memories together, list of reasons why you love them, etc. can be a gift to be remembered for years to come. If you want to do something less intimidating, there are little blank key chains for less than a dollar at Walmart that you can write a little note on as a nice daily reminder for the gift receiver.
Framing something you have drawn, painted, or colored can also have a powerful effect. Painting or decorating can add some flair to a wine glass, an ashtray, or a similar present. A recipe box full of simple, cheap, tasty recipes would be a life-saving gift for an inexperienced or ill-prepared college student. Not to mention, you can give your loved one an actual homemade meal, snack, or dessert­­– perhaps something new every year or an old favorite of theirs– which not only represents a labor of love but grants the receiver delicious food! Never disappoints.
Some, however, have exhausted all of these routes and need to be even more creative at this point in their relationships.
T-shirt transfer sheets are one way to reduce expenses and customize presents. By downloading a desired image, copying a photo or drawing, or creating something on the Paint program, you can print a picture onto a transfer sheet and iron said image onto a cheap, plain shirt. Some people use this material to put a picture onto a hangable wooden block to create wall decor. You can purchase a finished, blank wooden square that is already made to be hung or, to save money, pull string through drilled holes. Pictures are very cheap to print, as low as nine cents per picture at walmart that can be framed or used to make a collage. A scrapbook kit, stickers and sheets included, may be ten dollars but time is the biggest investment in this thoughtful project.
Other simple ways to make wall decor with a blank canvas are by paneling differently painted coffee stirrers, stapling an attractive fabric, running crayons through a hot glue gun to make an abstract and textured piece, gluing on wooden letters, or creating a geometric pattern with colorful masking tape. Blank walls, which many college kids have, are just waiting to be filled! Most people love personalizing their space.
Many joke that Pintrest is known for using Mason jars but you really can put anything in them! A premade cookie mix, for example, can have all of the dry ingredients ready to use with a little note of the instructions so that they can be baked fresh. Wrapped caramels (essentially sugar, milk, butter, and vanilla extract heated on the stove) can turn it into a candy jar. By writing compliments or fun activities you can do together on a bunch of popsicle sticks, you've created a long series of surprises for your loved one.
Mugs are a similar option, and are easy to put together and require minimal wrapping once complete. These are perfect for those on your list who love tea and coffee. A cute mug can be purchased almost anywhere, but if you're feeling extra artsy, you can purchase a blank one and some sharpies to decorate. Place the decorated mug in an oven at 350 degrees for 30 minutes to bake the design onto it. Once completed, you can fill it with a gift card to their favorite coffee shop, tea bags, hot chocolate and marshmallows, or the perfect small snack to accompany their drink of choice. This small, thoughtful gift is easily wrapped in a small plastic bag and tied with a ribbon.
Moving up in size from the Mason jars and mugs, gift baskets allow you to work with a slightly bigger budget and a wider array of ideas. For example, if someone you know loves to work in the kitchen, a basket filled with cooking and baking supplies would be perfect for them. Another great idea is a movie basket filled with DVDs, some popcorn and other snacks, and a blanket to cuddle up in. Someone you know loves to hit the gym? If you find a basket large enough, it can be filled with a yoga mat, small weights, a water bottle, and some protein bars for their post workout food cravings.
A relaxing, moisturizing sugar scrub is fancy and simple to make– simply 1/4 to 1/3 cup of almond (or coconut, etc.) oil for every two cups of sugar. An extract or oil of your choice can offer additional properties along with a pleasant smell. Some food coloring can also be chosen to give the scrub some color and visual appeal. By adding peppermint oil to the sugar then layering the jar with plain and red-dyed scrub can create a festive, candy cane effect.
On a similar note, you can make many tubes of Chap Stick just by combining water, a tablespoon of beeswax, two tablespoons of Shea or cocoa butter, two tablespoons of coconut oil, and 20 drops of another essential oil of your choice. Other products like soap can be easy to make, especially in bulk, which is good for a gifting frenzy like Christmas or Hanukah.
If you know how to knit or crochet, or would like to know, then the options for homemade gifts wildly opens up. One unexpected option would be to crochet an easy, small chapstick or lighter holder that can be clipped onto wallets or purses. Scarves, hats, potholders, coffee cup sleeves, boot cuffs, and blankets are some of many practical gifts. Pro crocheters can even make stuffed animals. The ideas are truly endless. If you already bought something like this for your friend, then adding a monogram can be an easy way to customize the present.
You have likely found that it's hard to find an easy, cheap, interesting gift that you can make at home. After consulting friends and doing some lengthy research on the internet, you can figure out how to surprise the person you care about. Even you may be surprised that you could give something so thoughtful to your friend.