Cheyenne Dorsagno, Copy Editor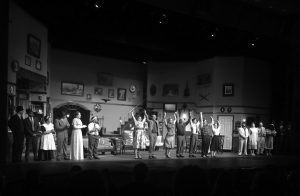 You Can't Take It With You is a romantic comedy and social satire written by George S. Kaufman and Moss Hart, having premiered on Broadway in 1936, it went on to play for another 838 performances. The production has won the Pulitzer Prize for Drama as well as the Academy Award for Best Picture and Best Director.
This past weekend, the play was adapted for our Goodrich Theater stage by way of SUNY Oneonta's Theatre Department and Mask and Hammer Theatre Club. The enormous set was beautifully detailed, featuring lovely furniture as well as masks and other souvenirs filling the walls. The authentic costumes, perfected accents, and overall talent of the cast provided a heartwarming and humorous experience.
You Can't Take It With You was placed in 1930's New York City in the home of the unusual Vanderhof-Sycamore-Carmichael clan. Snake keeper Grandpa Vanderhof (Neil Cunningham) was the voice of reason throughout the play despite having quit his job many years ago and having never paid his income tax. His daughter Penelope (Melissa Trainor) started writing a variety of plays ever since a typewriter was left on their doorstep, and her husband Paul (Kevin Sutton) manufactured fireworks in their basement with the help of Mr. De Pinna (Akeem Celestine).
Penelope's and Paul's daughter Essie (Shannon Harding) made delicious candies in between her disastrous ballet sessions with her lively Russian professor Kolenkhov (Matteo Velardo) while her husband Ed (Kenny Schick) remained fixated on his xylophone and printing catchy phrases. Their other daughter Alice (Danielle Purdy) was the most normal of the bunch as she had an office job that led her to her love interest, Vice President Tony (Josh Heeder). Alice was clearly the most aware of how strange the family would seem to others but she admired their unusual demeanor and never asked them to change. Still, she feared how her kin would make an impression on Tony's serious, wealthy parents, Mr. Kirby (Kevin Chacon) and Mrs. Miriam Kirby (Maura Kavanagh).
Director Andrew Kahl noted that the theme of the play was "that free expression and eccentricity offer broader pathways to happiness than conformity… the central plots still speak deftly to broader challenges and foibles of living in a compulsively ambitious world." All of the characters shamelessly immersed themselves in their hobbies. The object was not that Essie be a good dancer, that Penelope finish one of her plays, that Ed print anything of significance, that Paul even take his fireworks outside to use them purposefully, or if Grandpa went back to work and saw the importance of income tax. Each of these individuals were true to themselves apart from outside influence which could result in supposedly odd hobbies or even bland activities such as ceaselessly eating cornflakes.
When Grandpa confronted Mr. Kirby about his refusal of Alice and Tony's marriage, he explained that you can't take money with you like that of the love of friends and family. In that way, societal constructs can barricade people's minds and emotions. This was why, one day, Grandpa simply decided to stop working and become an inspiration of autonomy for this group of people. Alice was becoming victim to the pressure of maintaining standards and a good reputation when she temporarily called off her engagement with Tony after their families did not get along. Tony, however, did not share his parents' judgement about her family. He purposely brought his parents to Alice's house on a night that they weren't expecting it because he wanted his parents to accept them for who they really were, a loving and accepting family.