Ever wanted to travel the world all in one day? If you went to the 4th Annual Global Movement Festival on Monday, you got pretty close. Before entering the Hunt Union Ballroom, guests were asked to grab a sticky tab and use it to mark on a large map of the world any place they've gone, desire to go, or are from.
Once guests stepped inside, they were immersed in the various cultures that c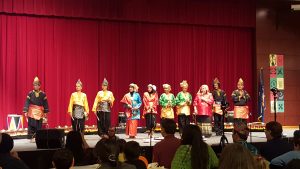 olor our world. There was a buffet that offered cuisines from places like India, South America, and the Caribbean. Once everyone was seated and fed, the show began.
First up to the stage was an Indonesian group called Rumah Gadang. Their style of performance, traditionally called Randai, was a "theater-in-the-round" style that incorporated a series of songs and dances from West Sumatera, Indonesia. The performers were donned in vibrant green and gold garments, and some of their dance moves were slow and deliberate, likening the rhythmic style of tai chi.
They started with a welcome dance, also called Tari Pasambahan. This dance is usually performed to greet honorable guests into a host's home. Lively music accompanied their upbeat movements and the audience certainly felt warm and welcomed.
Their final, and arguably most interesting dance was the plate dance or Tari Piring. This dance is executed with the dancer holding a plate in either hand while they twist their arms in varied ways. It's a wonder how the plates aren't dropped in the process and it is very intriguing to watch. The choreography is used to show happiness and thankfulness for the successful harvest and the plates signify material prosperity. One woman in the group joked that this reason is why fine china is used in this dance as opposed to cheaply made paper plates. Another reason why ceramic plates are used in this dance is because at the end of the dance, the plates are thrown down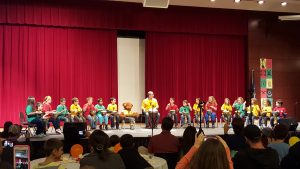 by the performer, causing the plates to shatter and making for a very shocking finale.
 Following Rumah Gadang's performance, the third grade Valley View drummers took the stage. They are seasoned experts of the Global Movement Festival and come back every year to wow us with their skills on the djembe, a West African drum.
Next in the lineup were some diverse performances from students here at SUNY Oneonta. Included in these performances were the World Dance class, World Percussion Ensemble, Oneonta's female acapella group, Pitch Slapped, the Frequency STEP Team and student dance groups VERSATILITY and Xclusive.
A few individual students also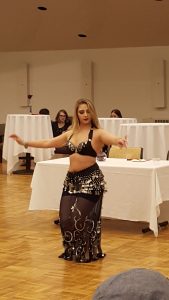 graced the stage with their talents, like Alyssa Costa, a junior dietetics major from Queens. She performed an intricate belly dance number that really impressed the crowd. Her many years of dance experience surely shone through in her routine.  Another student who dazzled the audience was freshman Danying Li who gracefully played the Chinese flute for us. The Chinese flute, differing from the metal flute, is made from bamboo, which gives it a distinct and unique sound. Li played a song called "Cavalry Beyond the Great Wall," which was popular in China in the 1970s and describes wartime when they still used horses in the Mongolian region.
The multicultural night was capped off with an International Fashion Show in which students from all majors and years showed off traditional and modern day styles from all around the globe. These trends included garments from Ethiopia, Japan, and Bulgaria, just to name a few.
The Global Movement Festival, emceed by associate music professor Julie Licata, has been put on every year since 2012 and is hosted by the SUNY Music Department, the Office of Equity and Inclusion, and the Office of International Education. Licata introduced the festival with this: "The annual Global Movement Festival was initiated in 2012 with the dual mission to promote cross-cultural understanding, tolerance, and a sense of global connectedness through the education and presentation of music, dance, art, and culture; and, to unite the city of Oneonta and SUNY Oneonta in a collaborative effort to raise awareness of current global issues, and to raise funds for global charities. Over the past few years we have raised almost $10,000 for causes in Sudan, Ghana, and Uganda, and donated over 40 bags of groceries and approximately $300 to the Riverside Elementary School Food Pantry!"
This year, the Global Movement Festival raised funds for the Ishmael Beah Foundation. Ishmael Beah was the Mills Distinguished Lecturer this September because his book "A Long Way Gone," was this year's Common Read for the school. "A Long Way Gone" focused on Beah's life as a child soldier kidnapped at age 13 and forced to fight in a civil war for over two years in Siera Leone. His foundation assists child war refugees with reintegrating into normal life.
The festival is always a successful event and with the great work they're doing, will surely continue for years to come.