Eric Cullen, Contributing Writer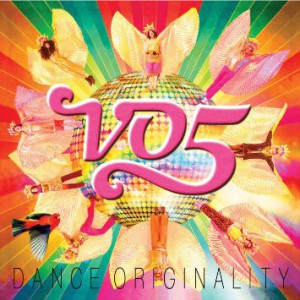 Their website is described as "under construction permanently." Their sound? Thoroughly pre-internet. So many questions have to be asked of VO5 before a well-developed picture of the anomaly they are begins to unfold. The nine-piece disco band, well known in Wisconsin's private party scene, has been a hidden gem of the dairy state for over a decade. While a VO5 gig consists mostly of covers — "YMCA" will cost you extra — their album is titled Dance Originality for a reason. The nine fresh songs and EDM-laced remix draw from a well rounded group of influences, including jazz, Latin, and funk, in addition to their disco home ground.
While the songs are well crafted, VO5 borrows from their idols freely — a bass line here, chord progression there — to make an album that, compositionally speaking, fully belongs in the present day music environment. With electronic dance music having its moment and hip-hop being a cultural mainstay at this point, there's an irony in drawing analog influences that could practically be confused for digital sampling.
The sound-snatching group is forgiven, however, when you realize their diverse backgrounds and presumably busy schedules. None of them are full time musicians, but instead a group of doctors, engineers, actresses, and other jobs of creative, yet serious, servitude. They're almost like a real life version of Village People, which may be the reason behind their reluctance to play YMCA.
Similar to their everyday occupations, VO5's new music spans the spectrum of functionality. One can drive to work, clean the house, or breezily jog a 5k to a song like "I Can Feel It" with its open ended lyrics and seriously uplifting piano chords accompanied by some playful guitar accentuations à la Nile Rodgers. "In Your Dancing Dreams" is more of a drive-home-from-work kind of song, but is still danceable, nonetheless.
And so the album goes, as a whole, coming off as a nostalgic compilation with no real theme running through the piece other than sheer disco and the urge to move. Again, dance moves aren't the required movements; you can speed to the office, mow the lawn, or flip a burger at some marginalized job to this album, and it will be more enjoyable solely due to the sonic waves that disco brings to the table. Dance Originality is the steak sauce of music; It makes every form of human motion better by pumping it full of positive emotion and keeping an ambitious tempo going throughout the piece.
I would recommend this album to anyone looking for a boost of originality throughout his or her daily routine. People who were introduced to dance music through the most recent explosion of EDM could also be well served to give Dance Originality a listen, as it will surely be palette expanding and leave a 30 year genre gap open to being filled with Chicago house, Detroit techno, and other great eras of dance.
Dance Originality is in stores now and is available in several formats, including digital download and CD, but if you're really about that life be sure to cop it on vinyl. Dance on.