Sara Goldenbaum, Contributing Writer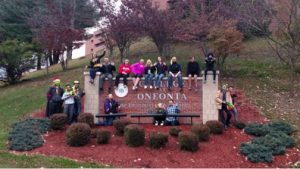 If you've been around SUNY Oneonta long enough, you've probably seen several students running around campus with nerf guns and neon armbands or headbands. Those students are playing a game called Humans versus Zombies (HvZ). HvZ is a week long game of tag that simulates a zombie apocalypse. The people wearing the green bands on their arms are humans, which is the starting point for most of the players. In the very beginning of the game, there are two to three original zombies (OZs). The original zombies are able to wear the green armbands at first so they are disguised as a human and are randomly chosen by the moderators of the game that help run HvZ.
The original zombies' goal is to tag as many humans as possible, thus turning them into zombies, which involves a lot of trickery. Once a player is tagged by an OZ, they become a zombie. Zombies wear the neon bands on their head instead of their arm. The zombies need to tag as many humans as possible so they do not starve. The game ends after all humans have been tagged.
How do you avoid being tagged? Humans use nerf guns and socks to defend themselves against the zombies. There are missions that take place on the weekend of the game where humans and zombies must complete objectives as well. Whether you make it to the final mission as a human or become a zombie on day one, there is no real way to lose the game because being on either side is fun.
I have played three games of HvZ and each time I have had a different experience playing. In the first game I played, I was tagged within the first day, so I became a zombie very quickly. The second game I played, I got chosen to be an OZ, so I got to help start the game of HvZ. However, by my third game that just recently ended, I made it to the final mission as a human. Every time I've played, the game became more and more exciting.
The most enjoyable part of the game is the missions. During missions, humans are required to build or defend something while they defend themselves from getting tagged by the zombies. For example, the final mission in the most recent game of HvZ was to find three "towers" which were cardboard boxes placed in different areas on campus. Humans had to defend each point for a total of five minutes. I know this may not seem hard, but as missions go on, the zombie side grows. When there are 15 zombies and about five humans, things get pretty heated up. It was nerve-racking trying to defend ourselves from that many zombies, especially when I was used to being on the attacking side. I even had four people who really wanted to tag me and were specifically going after me, all of whom are supposedly my friends. At the end of the mission, only one other girl and I were left standing in the gazebo surrounded by about 18 zombies. It was epic. We stood back to back, each facing the zombies, waiting until they charged at us. We knew we were going to die. My nerf gun ran out of darts and the zombies finally got to me.
If you missed the chance to join in on this semester's festivities, make sure to contact the Zombie Defense Corps and find out when next semester's game is.