Abigail Williams, Staff Writer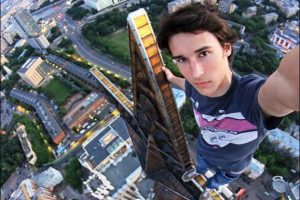 The selfie is now a part of millennial popular culture: from the famous Ellen Oscar selfie to the introduction of the word 'selfie' into the Merriam-Webster dictionary in 2014, selfies have become a perfected art form of personal expression. Many people will go to any length to take the perfect selfie for social media likes, and in a startling trend, many have died for the perfect selfie.
In fact, selfies have killed more people in the last year than shark attacks. The statistic, as of September 24, is at a rate of 12 selfie related deaths to six unprovoked shark attacks, according to The Huffington Post. However, an aide to the Russian Minister of the Interior says that there have been dozens of selfie-related deaths in Russia this year alone. The Russian Interior Ministry has reacted to this new phenomenon that seems prominent in Russia with an informational pamphlet, video, and website. The public safety campaign uses mock road signage to inform the public about taking risky selfies. One risky selfie subculture referred to as "roofers" illegally sneak onto the roof of high-rise buildings and take photos from the top of those buildings.
Five of the selfie-related deaths tallied by The Huffington Post took place in Russia. A 21 year old woman in Moscow City fell from a bridge while trying to take a selfie on July 4. Another 21 year old woman shot herself in her temple with a 9mm pistol while taking a selfie in Moscow. A teenager died after coming into contact with live wires near railroad tracks while taking a selfie. Two Russian men were also killed while taking a selfie with a hand grenade. However, the Russian Interior Ministry has said that in addition to these deaths, there have been hundreds of selfie-related injuries just this year.
Common risks that are associated with fatal selfies in America include those with guns. Many instances of gun-related selfie deaths are due to accidental firing of the gun. Deleon Alonso Smith, a 19 year old from Houston, Texas, died due to the accidental discharge of a gun that he thought was unloaded. The bullet hit his throat. Unfortunately, this scenario is not unique. A 21 year old man from Mexico City also had a firearm accidentally discharge into his head causing his death while taking a selfie for Facebook.
Another common issue with dangerous, and sometimes fatal, selfies is nature. In late September, the Waterton Canyon park in Denver, Colorado had to close due to visitors coming too close to wild bears, sometimes as close as ten feet away, to take selfies with bears using selfie sticks. The selfies, according to park officials, are dangerous both for those taking the selfies and the wildlife, and the officials advise people to never turn their backs to wild animals. A 32 year old man who was filming the running of the bulls in Villaseca de la Sagra, Spain was gored to death by a bull that was running behind him, causing him to sustain injuries in the thigh and neck. Earlier this summer, a Mississippi woman at Yellowstone National Park was flipped by a bison after she posed for a selfie. Luckily, she survived with minor injuries.
So before you pull out that selfie stick or flip to the front camera on your phone, consider if your selfie is going to end up going viral on the internet for the right reasons, and make sure that you will be alive to see the likes.