Averi Amsterdam, Staff Writer
Fall is here, and pumpkins are everywhere. All of a sudden everything is pumpkin themed. Your Instagram and Snapchat are filled with a bunch of pictures and selfies with pumpkin flavored drinks and all of the stunning fall foliage.
Pumpkin picking is a fun fall activity to do with friends, family, or any loved one, and it is an excellent backdrop for an Instagram post. You get to enjoy the cool fall weather while in search of the perfect pumpkins to bring home, but what do you do with the pumpkins after that?
Pumpkin carving! Although messy, carving the pumpkins you just picked is a lot of fun. The store has the perfect kit to help you get started, and Buzzfeed and Pinterest have endless suggestions for carving designs. This craft is a creative way to decorate your front porch and get in the holiday spirit.
Not only can you carve the pumpkins into a Halloween spirited jack-o-lantern, but you can also carve little pumpkins to make spider pumpkin candles! It is as easy as purchasing a few battery-powered candles and black pipe cleaners, and pulling out your hot glue gun. By simply carving out the top and insides of the pumpkin, gluing the black pipe cleaners to the sides, and placing the candle inside, you have a festive decorative candle. This easy craft doesn't involve as much cleanup as carving a large jack-o-lantern does.
Whether you make a large jack-o-lantern or a small spider pumpkin candle, the gooey insides you scooped out don't have to go to waste. If you separate the seeds from the rest of the pumpkin, you can roast them in the oven to make a delicious snack. The rest of the pumpkin's insides can be pureed and then used to make pumpkin pie (or muffins, or whatever pumpkin flavored food you desire). There is also the much easier alternative of purchasing already pureed pumpkin in the store to bake with.
So you went pumpkin picking, picked out several large pumpkins, but don't want to deal with the mess of carving them. That is understandable, who wants to clean that up? Instead of performing surgery on the pumpkins, you can give them a makeover by painting them. This fall craft gives you a way to decorate without having to worry about the pumpkins rotting before Halloween actually comes.
Who ever said you need an actual pumpkin to have pumpkin decorations?! Luckily, you don't have to. You want a jack-o-lantern, but you don't want to deal with a rotting pumpkin inside of your house? A simple trip to the store to purchase orange solo cups, sharpies, and battery operated candles can provide you with an activity and cute Halloween decorations without having to worry about your pumpkins going bad! Simply hold the cup upside down while you draw a jack-o-lantern face on it, place the candle underneath, and you have a pumpkin-less jack-o-lantern!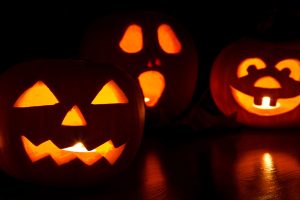 Fall brings you much more than a pumpkin spice latte from Starbucks. You just have to figure out which fun, seasonal activity you want to do and get yourself into the holiday spirit!