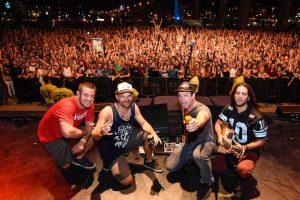 Tracey Cheek, Arts Editor
For those of you who don't know, Badfish is a Sublime tribute band.  These guys have been performing and perfecting the Sublime songs we all love, and it all got started over ten years ago at the University of Rhode Island.
Here's an exclusive interview with the drummer, Scott Begin:
Tracey Cheek: How did you guys decide to be a Sublime tribute band?
Scott Begin: It was just the bass player and I that were at school together, he and I have been in the band since the beginning. We had a love for music and that prompted us to start playing together, throwing around some song ideas and getting together in the basement and jamming out.  That eventually led to the idea to form a Sublime tribute band — that was back in 2001.
TC: Out of all the Sublime songs, how did you come up with the band name of Badfish?
SB: We never really discussed it; it just seemed like a really good fit.  It's a song on the first Sublime album, a quintessential Sublime song.  It was one of those things we didn't really have to deliberate much.
TC: What's your favorite song to play?
SB: Well that changes week-to-week or month-to-month.  Right now we're playing "All You Need" which is a really fast tune off the second Sublime album.  It's a lesser-known song for sure. We try to mix it up with some lesser-known songs for the hardcore Sublime fans.  "All You Need" is just a really fun song to play; it's a fast song.
TC: What has been your most memorable show so far?
SB: I have to say, ironically, a show that I didn't even perform at. We played a show with Bud from Sublime on the drums, in Anaheim in June. It was a lot of fun — for me it was memorable because I got to watch the show instead of playing, and I got to watch Sublime's drummer playing the drums with my band mates, which was a real thrill.
TC: It's been about 20 years since the original Sublime has been around — why do you think younger generations who may not have even been born yet are so attracted to Sublime songs and their vibe?
SB: It's because it's honest and exciting music.  I think Bradley's songwriting was so lyrically clever with songs. How stylistically diverse the band was — from punk-rock to ska to hip-hop, all these different genres melded into one.  It cast a pretty wide net and gave the music such a wide appeal that you're able to just interest a lot of people that might not have even considered it.  So I think that years and years later, it's basically a testament to their wonderful songs and music that Bradley and the other guys created as a band. We're very fortunate to be a part of keeping the legacy alive in some sort of way.
TC: What are your ultimate goals as a band?
SB: For us I think it's just to continue to make people happy, and they come to our shows and want to see us play Sublime songs.  We want to do that as best as we can, and we want people to leave our shows really saying, "Man that was a blast, these guys kicked ass, and it sounded good!"
TC: What can we expect at the Oneonta Theatre?
SB: We're pretty excited because that's the beginning of basically a month-long tour for us that will be bringing us to Florida and back.  First we have to hit a couple of upstate New York cold chills, but we're Rhode Islanders so we're used to the cold.  That'll be the kickoff show for the tour so we're going to be really excited to be out there. It should be a fun and exciting amount of craziness.
Oneonta will be welcoming back Badfish this Halloween weekend, and they'll definitely be bringing their A-games – with costumes and music.  Whether you're a diehard Sublime fan or simply a fan of reggae/rock/ska music, check out Badfish on Friday, October 30 at the Oneonta Theatre.