Adia Watts, Editor-in-Chief
Donned in a fashion-forward royal blue ensemble, Oneonta State alumnus Carol Sbarge came to visit our campus and speak to some of the students in the mass communication department last Monday, September 28. Sbarge is currently an anchor at Channel 2 News WSBTV in Atlanta.
Carol Sbarge received a business economics degree from SUNY Oneonta in 1980, which she says, has helped her be a well-rounded journalist since it is important to be knowledgeable about many topics. She also says that her background in business economics has been beneficial to her because many of the stories she covers are related to the economy.
After graduating from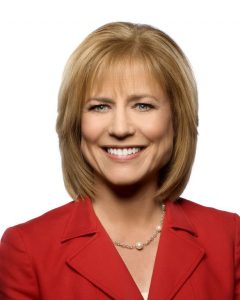 SUNY Oneonta, Sbarge went on to work in the circulation department at a business magazine publication in Chicago. She credits her move to Chicago as what helped her figure out what she wanted to do with her life, or rather what she didn't want do to. It was there that she saw a news crew outside of her office one day and decided she didn't want a regular nine to five job where she sat behind a desk all day. She wanted to be the one telling people what's happening, much like the reporter she was watching from her window.
Following this realization, Sbarge went back to school to earn a master's degree in broadcast journalism from Boston University. This began her more than 30-year career in the TV news industry. Sbarge worked at a broadcast internship in Maine, then as a reporter in Raleigh, North Carolina, and finally as both a reporter and anchor in Atlanta, where she has been for 23 years.
Being in the industry for so long, Sbarge has been witness to many changes over the years. The biggest change, she says, has been how social media is used in the news.
"A part of my job now is reporting and taking pictures for our Facebook and Twitter pages. We have a web desk team we all work closely with. We encourage viewers to look at our social media sites. Our web team in turn encourages our social media [followers] to watch our newscasts," says Sbarge.
She enjoys the new advancements of technology and how they have helped in the broadcasting world: "Technology has been a big help. We can research and find information quickly on the internet [and] we can reach people 24/7 now with cell phones."
However, the switch to constant accessibility is not all good. Sbarge acknowledges that this new aspect of broadcast journalism also means more competition for the TV station: "People can get news from more news sources so we have to provide them a reason to tune into our newscast. The key as a local TV station is to cover local stories, do great investigative pieces, and have top-notch meteorologists."
In addition to making strides in technology, Sbarge adds that there have been "big improvements" for women in the industry as well.
"I remember an assignment editor early on who kept sending the male reporters to a big forest fire that had to be reached by the helicopter. When a few of us women questioned why we weren't being sent, the assignment editor said he couldn't picture us women having to ride in the chopper. He thought he was watching out for us. We let him know we were more than ready to ride in the chopper and, as any journalist, wanted to be on the big story. Now, there are a lot more women in management. I have had several female News Directors. As reporters, we are looked at as equals to men. When there is breaking news or any type of stories, I don't feel any barriers in my current newsroom as to who is sent."
During her time as a reporter, Sbarge has interviewed various notable figures. One of the people she enjoyed interviewing was former President Jimmy Carter.
"First of all, it was a great opportunity to sit down and talk to a former president, but also he has done so much since being [in] office. He just turned 91," she continues, "[and] is battling cancer, but is still working at the Carter Center to help fight disease and poverty around the world."
As for some words of advice for any aspiring journalists here, Sbarge advises doing a lot of reading and writing and making sure to get an internship. She also suggests being flexible and "willing to go anywhere for that first job. It is all about getting that on the job experience."
Finally, she notes that "any students considering [journalism] are good candidates if they are very curious, have a passion for current events, have good writing skills, can be objective, and really want to get to the truth of things."