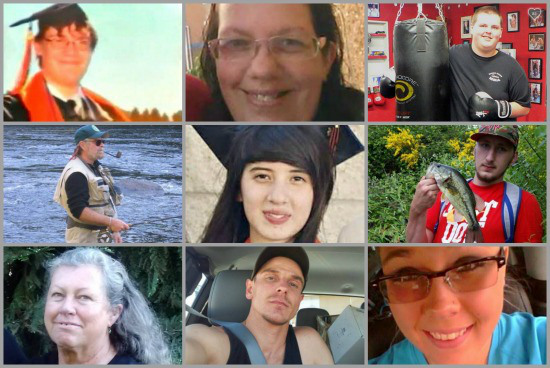 Cheyenne Dorsagno, Copy Editor
On October 1, Oregon's Umpqua Community College suffered the loss of nine students and faculty members while seven others were injured before the killer committed suicide. Anastasia Boylan, one of the survivors who had to undergo spinal surgery, told her family that the gunman entered the classroom firing. The professor died instantly, followed by other students. Everyone else dropped to the ground. She believes the act to be a hate crime against Christians because the shooter asked believers to stand and, after they bravely rose up, he shot them to death. However, students who responded otherwise were also killed without discrimination.
The shooter spared one student so that they could relay the event to others and give a flash drive to the police, which revealed his studying of past shootings as well as personal writings explaining his anger with not having a girlfriend or a sex life.
One student, Cassandra Welding, was in class when she heard the gunshots. She and her peers huddled together, hiding underneath tables.
"We locked the doors, turned off the lights, and we were all pretty much in panic mode," Welding said.
The students called the police and their loved ones, not knowing if they would ever have a chance to see them again.
The Douglas County Sherriff's Office reports the victims' names as follows: Lucero Alcaraz, 19; Quinn Glen Cooper, 18; Kim Saltmarsh Dietz, 59; Lucas Eibel, 18; Jason Dale Johnson, 34; Lawrence Levine, 67; Sarena Dawn Moore, 44; Treven Taylor Anspach, 20; and Rebecka Ann Carnes, 18.
Survivor Chris Mintz sustained multiple bullet wounds while attempting to protect his classmates and will have to learn to walk again. He has raised $450,000 thus far on GoFundMe and he is being praised as the hero of this event. Mintz ran to the library to pull the alarms and ran back into the building to then attack the killer in an attempt to stop him from entering the classroom.
The gunman was a new resident to Oregon and remained a mystery to his peers. His neighbors scarcely remember him ever being home and few students even recognized him. Even after his heinous crime, he will remain anonymous.
By naming the shooter, the attention is not only given to a murderer rather than to the victims, but by rewarding him with fame, other people may be encouraged to perform another mass shooting. For some who have developed feelings of being lonely and unseen, being infamous may seem like the only way to get any recognition.
In August, two Virginia journalists were killed on live television. A profile under the gunman's e-mail posted a response to this saying, "I have noticed that so many people like him are all alone and unknown, yet when they spill a little blood, the whole world knows who they are. A man who was known by no one, is now known by everyone. His face splashed across every screen, his name across the lips of every person on the planet, all in the course of one day."
This statement seems to not only prize the outcome of this event, but undermines the tragedy by saying that only "a little blood was spilled." The killer is glamorized and memorialized in a way that, for some people, causes the end to justify the means. The Oregon shooter was likely inspired by something that the American media can hopefully, with some restraint, prevent.
Some newspapers have received criticism by Oregon residents and others for using the killer's name. Fewer have since withdrawn his name to respect their readers' wishes. America needs to subside its obsession with fear, torture, and catastrophe to instead uplift its citizens and make it clear that we have no interest in knowing a man that would commit this crime.
The gunman owned 14 firearms. With school shootings becoming a recurrence in America every few months, the debate over firearms is as divided as ever.
Japan is a country with one of the lowest homicide rates in which a gun is the weapon. The government allows only very few gunsmiths in the nation as a way to restrict access to guns since they are practically prohibited. Getting a gun is highly regulated by the National Police Agency of Japan. The weapons laws state, "No one shall possess a firearm or firearms or a sword or swords." One exception is that a sportsman or hunter may obtain a gun after undergoing a tedious licensing process.
It is true, on the other hand, that one who is willing to commit murder will not hesitate to break the law in order to obtain a gun. Undeniably, though, this has served as a deterrent in Japan.
Whatever the solution may be, President Obama has since stated that people need to "change the routine" responses to mass shootings as nothing is changing.