Emma Harris, Staff Writer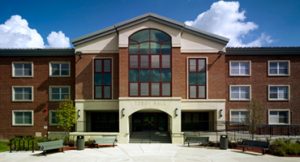 October 3 was a cold, wet, and windy Saturday afternoon on Tobey Field, with aching limbs, and residents covered in blankets cheering on the players determined to win. In the annual FYE Flag Football Tournament, each First Year Experience (FYE) Residence Hall faces off against each other in a two-day tournament, culminating in a championship game with the two teams who won the most games.
The FYE tradition began in 2005, and was originally called "Powder Puff Football" to be more geared towards female students. The FYE buildings consist of only freshman residents to help ease the transition to a more independent college life. As one of many annual FYE traditions, the tournament is meant to bring freshmen together to create community and friendship both within the individual halls as well as on the field.
In 2012, Tobey Hall won the championship, but in both 2013 and 2014, Littell won, and were looking to continue their hall's winning streak this past weekend.
In the coming days before the tournament, the five FYE halls – Golding, Littell, Wilber, Tobey, and Hulbert each formed teams. Then they each practiced to face-off against the other halls. Like professional football, each team created plays and created designated positions that players took, such as quarterback, wide receiver, and defense. Unlike tackle football, players wore belts with flags fastened with velcro to take players from the opposite team down.
On the more creative side of the tournament the teams also decorated flags, banners, t-shirts, and hair bows to show off during the games that had their respective team names on it; the Golding Goddesses, Littell Lynx, Tobey or not Tobey, Hulbert Holla, and Victorious Secret (Wilber).
Each hall had a team consisting of female players and a female team captain, along with male coaches. Teams had to have at least eight players on the field at all times, and many had alternates waiting on the sidelines. The referees were males from different FYE hall staffs. The games consisted of two 10-minute halves, and every hall played four games, each against a different hall: The only exception was the championship game, which was the fifth and final game for only two teams.
The final championship game was Tobey against Golding, with Tobey being undefeated their last three previous games, and an automatic win versus Hulbert. In a 3-2 win against the Golding Goddesses, Tobey or not Tobey won their fifth and final game. Key team players included Irmani Jones, Theresa Kempter, Victoria Walsh, Emma Weiss, Jasmin Garden, Sam Rivera, Alexa Jackson, Jackie Esposito, Emma Cohen, and Alexis Roman.
"We had really good motivation and had lots of optimism. The big part of the game was our running, and we did not pass much because it can cause interceptions. Overall we had a good team, and our defense was amazing, and every person did a great job," said Tobey Team Captain Maria Skoljarev.