Cheyenne Dorsagno, Copy Editor
F. Gary Gray's film Straight Outta Compton chronicles the coming up of what has been called "the world's most dangerous group," the self-proclaimed rap ensemble, N.W.A. The biopic received mostly positive reviews from viewers and critics alike, with 79 percent on Rotten Tomatoes and 72 percent on Metacritic. With 10 tracks as high as #2 on the Billboard 200 charts, it has grossed $180 million thus far at the box office.
The film follows Eazy-E (Jason Mitchell), Ice Cube (his son, O'Shea Jackson Jr.), Dr. Dre (Corey Hawkins), DJ Yella (Neil Brown Jr), and MC Ren (Aldis Hodge) as they struggled to overcome police harassment, record label complications, media and civilian retaliation, tensions within the group, and establishing solo careers.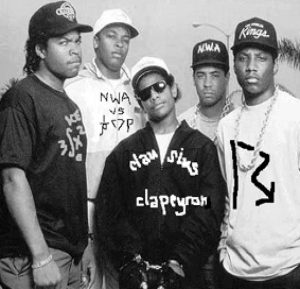 The most compelling plot-line was that of police profiling and violence. The opening scene showed one of multiple raids that had become common in the 1980's during the crack epidemic. For a time, police manned tanks on city streets and used them to crash into homes that may or may not have contained incriminating evidence. Several times throughout the movie the group members  aggressively frisked, threatened, and insulted by policemen solely for being black and in public.
N.W.A. came onto the scene strong and with a difficult message which was embodied in the lyrics from the "Straight Outta Compton" intro: "You are about to witness the value of street knowledge" and the words: "So police think they have the authority to kill a minority" in "F–k Tha Police." As shown in the film, many people were appalled by the group's brutal honesty, thinking that their lyrics were not only corrupting but also untrue. The result was public protesting and the destruction of their CDs. The rappers stressed in many real life and cinema interviews that their lyrics only sought to shed light on what was actually going on in the ghetto, as well as to give a voice to the unheard minority.
The docudrama is mostly accurate, even in some of the most shocking scenes. The FBI did threaten the N.W.A. with jail time if they continued to "incite violence" with their 1988 anthem "F–k Tha Police", which actually did lead to a riot at their Detroit show after a gun was shot in the crowd. As it turned out, their songs were prophesized by Rodney King whose beating was featured in the film.
Other unbelievably true-to-life moments were when Ice Cube used a bat to break everything in Priority Records' President Bryan Turner's office over a money dispute, when Eazy-E was shown as starting out as a drug dealer and terrible rapper, when Suge Knight mercilessly embarrassed a man in his underwear, and when N.W.A. members temporarily became enemies due to rap disses. Tupac Shakur and Snoop Dogg were also seen hanging out with the rappers.
Straight Outta Compton has received some criticism for what was left out of the film. MC Ren felt that his importance to the group as a lyricist was underplayed as well as the contributions of DJ Yella. The important women in the men's lives were also scarcely featured. Female rap trio, JJ Fad, for example, was not mentioned even though they helped to legitimize Ruthless (Eazy-E's record label) by having the label release their successful debut album.
Dr. Dre's history of abuse towards women was also completely excluded. In 1991, he assaulted Denise Barnes because he felt that she portrayed N.W.A. in a negative light while interviewing Ice Cube after his departure from the group. He also beat his past partners, with one having said, "I was just a quiet girlfriend who got beat on, and told to sit down and shut up."
The group's sexism is not totally hidden in the film given that the female characters are mostly silent, portrayed as an object of sex, fulfilling the commands of men, or being thrown out of a hotel room while topless and being pursued by a potentially abusive boyfriend.
On that note, there were a couple of totally ficticious scenes. The entire purpose of kicking out the groupie was to allow an opportunity for Ice Cube to say "Bye Felicia." While the scene gets some laughs, it only accomplished a brief reference to a trending phrase that will be forgotten with time. The movie was originally three and a half hours long. To have gotten rid of an hour of potentially honest material and leave this scene in was wasteful.
Straight Outta Compton, while imperfect, is a powerful film about the potential of the underdog and how they can redefine culture. N.W.A. founded gangster rap, and the future of their exponential success was glossed over in the credits. The living legends did work closely in the making of the film, so the story may be told differently once an objective eye tries to further immortalize this historical group.