Jason Birkelbach, Contributing Writer
It's tough to count past 48 anyway.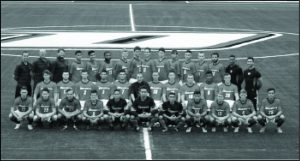 The Red Dragons broke the Montclair State Hawk's 48-game home winning streak with a 2-1 win for Oneonta on Saturday, September 19. The Red Dragons' record improved to 4-2-1.
The Red Dragons will begin SUNYAC play next Friday at SUNY Oswego. They will then play five straight SUNYAC games.
"This was our best performance of the year against a great team," Coach Iain Byrne said on Oneonta's Athletics website. "This win sets us up nicely for the start of conference play next weekend," he said.
After starting the season with three wins, including a Mayor's Cup victory two weeks ago, the Red Dragons lost 2-0 to Williams University. The following game, the team tied Vassar 1-1. Then, they lost 2-1 to Rensselaer on Wednesday, September 16.
The Red Dragons carried the winless streak to 6-0 Montclair State.
The Red Dragons were down 1-0 early on, but Oneonta senior Jake Sutherland quickly changed that. At the 19-minute mark, Sutherland, with an assist from Hans Purtell, tied the game at one goal a piece. The goal was Sutherland's third of the season.
The game remained tied until the 89th minute. Junior Anthony Passiatore received a pass from Brandon Arango and broke the tie with his first goal of the year.
The Red Dragons out-shot the Hawks 15-11. Oneonta Goalkeeper Vincent Pellegrino saved five shots. SUNY Oswego, their opponent next week, has taken only 88 shots in their eight games played, the ninth most in SUNYAC.
SUNY Oswego is currently in ninth place in SUNYAC with a record of 3-2-1. Last season, the Red Dragons defeated the Lakers 2-0. On Saturday, September 25, the team will travel to take on SUNY Cortland.
The team will play its first home game the following Friday, October 2, against SUNYAC opponent SUNY Brockport.