Astrid Ressler, Copy Editor
During Welcome Back Dragon Week on campus, the Student Association began the fall semester by unveiling a new event that will hopefully become a staple for students to attend and get involved in. Real Educational Discourse, or RED Talks, are inspired by (and therefore very similar to) the presentations at the TED conferences that are held annually in Vancouver, British Columbia.
RED Talks on campus welcome SUNY professors and staff as well as local professionals from the surrounding area once a month to speak on topics that are both meaningful to the college and meaningful to the presenter.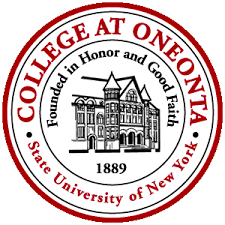 For the first RED Talk of the semester, the college invited Phil Bidwell (who has worked in the IT Services department on the campus for the last sixteen years), Tim Hayes (a Senior Advancement Officer at the college), and Darla Youngs and Jeff O'Handley from the Otsego County Conservation Association (OCCA) which is located between Oneonta and Cooperstown.
The topic for September's RED Talk was Stewardship.
Phil Bidwell talked about three of the oldest treeson the Oneonta campus grounds that he has studied for years and tested to determine their ages. There are, according to Bidwell's research, trees on this campus that are 200 to 250 years old. These trees have been witness to the formation of the United States and were around during the Civil War.
Tim Hayes took a different approach to the topic of the presentations that evening and brought forward facts about the college and the local area surrounding it. His presentation varied from how age and income are distributed among the campus and the city, to learning what types of jobs tend to flourish in this area of New York and why that is. He showed how population, job types, and income levels have fluctuated in Oneonta within the last one hundred years.
The last presenters of the evening, Darla Youngs and Jeff O'Handley, spoke about their work with eliminating invasive and non-native species of plants in Otsego County. Their most recent and imperative project has been the safe removal of water chestnut plants in Goodyear Lake out towards Cooperstown. With the amazing help of volunteers, local homeowners, and college students from Oneonta State and Hartwick alike, this invasive plant has nearly been completely eradicated from the area since they started to remove them from the lake in 2007. Every spring, less and less of the plants and their seeds show up, which has been the ultimate goal for the OCCA when it comes to their removal of invasive plant species.
The next RED Talk will be on October 7 at 7:30p.m. in the Waterfront Room of the Hunt Union. The topic for the second set of presentations will be Inclusive Community.
Other RED Talks this semester will be on November 4 (topic: A Liberal Arts Foundation) and December 2 (topic: Global Connectedness). Students will receive LEAD credit for these events.