Cheyenne Dorsagno, Copy Editor
The 2015 MTV Video Music Awards gave America one of the most tense moments in television history – an unexpected clash between award winner Nicki Minaj and the show's host Miley Cyrus. Many questioned if the outburst was faked for the show, but a source confirmed that Cyrus and Minaj were so heated about the interaction that staff backstage had to make sure they did not cross paths and continue the confrontation. So what sparked this outrage, anyway?
Apparently, Cyrus had a lot to say about the recent spat between Taylor Swift and Minaj. When Minaj learned that "Anaconda" was not even nominated for Video of the Year, she tweeted, "When the 'other' girls drop a video that breaks records and impacts culture they get that nomination."
Swift, one of the women in the 2015 Video of the Year category, likely – and perhaps reasonably – felt that she was the subject of this statement. Swift then tweeted to Minaj, "I've done nothing but love & support you. It's unlike you to pit women against each other. Maybe one of the men took your slot." The unseen message of Minaj's tweets was that of race misrepresentation in the music industry. Supposedly, they were not meant to undermine Swift's nomination.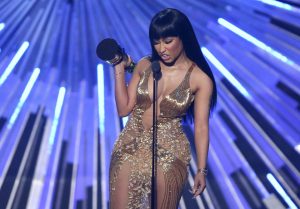 When Cyrus was asked her opinion of the situation, she responded that Minaj was jealous of Swift's video nomination. She said, "If you want to make it about race, there's a way you could do that. But don't make it just about yourself. Say, 'This is the reason why I think it's important to be nominated. There's girls everywhere with this body type.'" Cyrus went on to say that Minaj's approach was "not very polite" and could have been done with "openness and love." Rather, it turned into a cat fight that this story was not supposed to be about. In that respect, Cyrus was right. Minaj's message was lost in the catty nature of the interaction.
Afterwards, the online debate began between Team Nicki and Team Miley.  Many made the point that Minaj's tweets made necessary comments about the music industry. Although the Video of the Year category featured four minorities out of seven candidates, only one (Beyoncé) was a black woman. As an African-American female, Minaj has experienced double the disadvantages in her lifetime as a victim of sexism and racism. The music industry is known for exploiting and sexualizing women and as of recent has been getting called out for having white artists adopt and take responsibility for trends in black culture.
Many could argue that Minaj's "Anaconda" was distasteful and therefore was excused from nomination, but Miley Cyrus had previously won Video of the Year for "Wrecking Ball" which featured her sensually licking a hammer and swinging naked from a wrecking ball. Minaj has a $60 million net worth and recently broke the record for most video views in a 24 hour period with her song "Anaconda." Cyrus said that she does not think the MTV committee purposely excluded Minaj as a black woman but could it be that discrimination has become so ingrained in people's way of thinking that they processed it subconsciously? It has been said that Cyrus, as a white person, did not have the right to make comments involving racism to begin with.
White people could never fully understand how their past actions have interrupted and redefined the black experience. Still, they can see this racist system and know that it's wrong just like someone who has never experienced rape or child abuse can passionately advocate against them. Is it okay to refuse whites' participation in this detrimental conversation? How can this issue of racism be solved? The answer is unclear and highly debated, but a solution will never be found if one of the parties involved does not communicate with the other. Imagine a couple, say a boyfriend and a girlfriend, that had a disagreement and went to their friends for advice. Both may have an idea about how to better the relationship, but no improvements will be made unless the two exchange their thoughts.
It is likely that Caucasians and African-Americans will continue to somehow confuse and offend one another. However, through practice, people can learn how to be sensitive and understanding. Blacks have compromised enough – if you can call these forced circumstances a compromise – and many Caucasians have developed an embarrassed hesitation to become involved in this conversation. Despite this, people need to care enough to at least attempt it and be open to improving the method of interaction along the way. The ideal outcome would be a more equal or, at least, aware society. Although the Swift versus Minaj tiff began as a massive misunderstanding, they talked about it; Swift later apologized and Minaj graciously accepted. From them, we can at least learn to do that much.