Noah Raspler, Contributing Writer
After their epic collapse, New York Mets' star pitcher, Matt Harvey, should be taking the Nationals' bullpen out for a nice steak dinner.
Harvey's much anticipated start after the whole innings limit fiasco unfolded right before our very eyes. On Tuesday, September 8, Harvey had one of his worst starts in his brief career. The Washington Nationals offense scored seven runs against Harvey, tying his career worst over 5 1/3 innings and 74 pitches.
With the Mets in a 7-1 deficit going into the seventh inning, it looked like the game would be a sure loss. In the top of the seventh inning, the offense exploded for six runs, thanks in part to a Nationals' bullpen collapse, which tied the game and let Harvey off the hook. However, there is one positive that Mets fans can take away from Harvey's lousy pitching performance – his limited innings.
Just as things started to heat up for the New York Mets, the team got into a little spat that would spark some serious debate. On Labor Day weekend, Harvey's agent, Scott Boras, expressed concerns about his superstar client's workload. In 2013, Harvey underwent season ending Tommy John surgery, which ultimately sidelined him for the 2014 season. Now only one year removed from his surgery, Harvey is creeping ever so slightly to his doctor-imposed innings limit of 180, which also includes the postseason. Now, with very little wiggle room until Harvey reaches his "limit," the Mets seriously have their work cut out for them.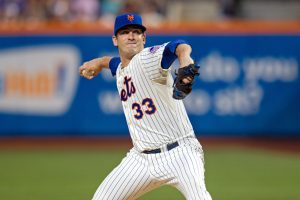 According to Mets General Manager, Sandy Alderson, Harvey will "tentatively" make two more regular season starts. With two upcoming series against teams that have absolutely no shot of postseason baseball, the Atlanta Braves and Miami Marlins, Harvey most likely will not be needed. Alas, there are only two teams that have a fighting shot of spoiling the Mets plan for their first postseason appearance since 2006. Manager Terry Collins and the Mets have been handed yet another month of September baseball with a chance to stamp their ticket to the playoffs.
Think back to the homestretch of the 2007 and 2008 season. Unfortunately for Met fans, we all know how that turned out. The question now facing the organization is, how much will Harvey's innings limit hinder the Mets' chances of reaching the postseason?
A series against the New York Yankees (Sept. 18-20) and the final series against the Washington Nationals (Oct. 2-4) should be the last hurdles the Mets have to overcome to truly seal the NL East Division and their playoff spot – if there still is a playoff race. With upcoming series against teams that are all miserably below .500, Harvey can afford to miss a start here and there. As the Mets continue to widen their National East division lead, Harvey might not have to be used as much as expected.
However, there are two potential problems that loom with the innings limit dilemma. If the Mets were to shut down Harvey for most of September, it might affect his rhythm and pitching mindset. On the other hand, if he were moved to the bullpen, the main concern would be if he could remain sharp and dominant after not starting in his usual role for several weeks. Even without Matt Harvey on the mound, the Mets have proven multiple times that they are a team good enough to take care of business and rake in the W's.
This is the Mets' year. With everything going right for them, it seems as if nothing can stand in their way. Mets fans have been waiting many years for this opportunity to come  – postseason baseball. The offense, defense, and dominant pitching gives hope that the Mets can make a serious push to win it all. The bottom line is that Matt Harvey needs to pitch. With the postseason in reach and spirits high, we can think only of one thing:
"Please pitch Matt Harvey."