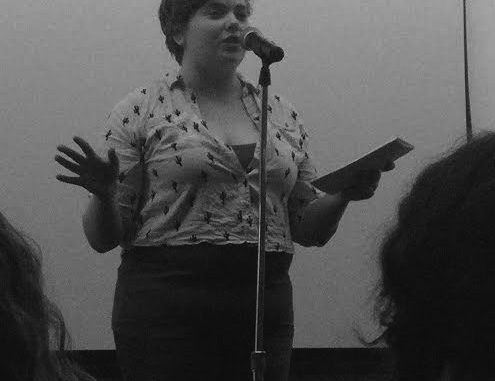 Campus News
Cheyenne Dorsagno
Staff Writer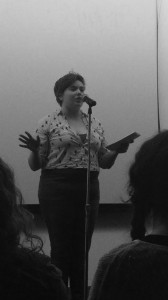 On November 19, the Big O Poetry Slam presented Slam 125 with Anna Binkovitz as the feature poet in honor of Women's History Month. Nationally renowned, Binkovitz recently graduated with an honors degree in Creative Writing from Macalester College. At just 21 years old, she has performed on the finals stage at the 2012 College Unions Poetry Slam Invitational, published the chapbook The Love Hypothetic, become a viral poet on Youtube and has been featured on websites such as Huffington Post and Feministing.
The recent slam opened with host Megan Gillen and fellow Poetry Slam Association members Ttam Nanooc, Jordan Mayers and Stefan Mirvil performing a group slam. The men represented judgements of women, stereotyping their job outlooks and interests–such as being social workers or pretending to like science for attention–while interrupting Gillen every moment she tried to defend herself. When the men left, she stated when the men left that women are only heard when men are not silencing them.
Binkovitz then took the stage to share a series of confessional poems, explaining that in each she is typically "angry, sad or having sex." She illustrated many personal experiences such as men's outlook on women, being conditioned to expect men to rate her body and sexual performance, body image concerns that result in dieting at a young age, starvation and self-hatred, as well as her history with sexual violence and stalking. Binkovitz addressed many men's blind eye to rape culture as shown through their telling rape jokes, seeing cat-calling as flattery and only becoming defensive of themselves when women are afraid of them.
She covered a wide range of women's issues including the use of their bodies in advertising, women turning against one another in hatred out of insecurity, the stereotype of feminists being overly powerful man-haters and casually slanderous terms for women such as "bitch." Her poems also memorialized female figures who not only gave women the right to vote but also granted women sexual freedom by openly enjoying sex and masturbation.
After Binkovitz performed, a series of SUNY Oneonta students participated in the poetry slam, the judges suspending their usual numerical rating system for drawings and phrases. Host Megan Gillen presented a narrative of trying to gain acceptance of a man, imagining that many men who mistreat women are victims of "mommy issues."
Denny Agassi then recited a poem of a father who ignores the struggles of his transgender teenage son, only further revealing the harsh standards set upon people based on their gender. Daniela Plunkett also described the female conflict and physical responsibility to both be pregnant and have to make the weighty decision of whether or not one should get an abortion. Justine Bishop concluded the students' participation with a poem that she had written during the slam as inspired by the other poets. In said piece, she described the assumption that women could not handle a presidency – especially during "their time of the month" – the bountiful cosmetic aisle in supermarkets, the forbidden act, fear of walking alone and more.
Binkovitz finished the night with her famous poem "Asking for it," attacking the notion that women's clothing reflects their sexual desires. In the piece, she imagined a world where people could only express themselves through their clothes. In this apocalyptic scenario, one would have to carry their wardrobe with them everywhere. They would need a meat outfit to express wanting steak, a hand outfit to wave down a departing bus and the occasional nudity while changing would always express wanting to have sex, which would ultimately result in a worldwide orgy of people having sex until they starved to death.
Binkovitz concluded the poem by urging others to communicate with people, not their outfits. Walking off the stage to an uproar of applause, the night reflected the progress that has been and has yet to be made in women's issues. This was discussed not only by women but men as well, reminding everyone that feminism is about equality of the sexes and can only be accomplished when everyone participates.