Marielle Genovesi, Arts Editor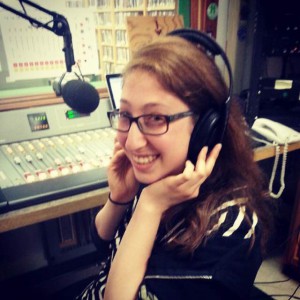 For those of you who are avid listeners [as we are at The State Times] of our student run radio station, WONY 90.9 FM, you may often find yourself wondering who belongs to the lovely voices coming out of your radio. We certainly do. So for the sake of WONY listeners on campus and around town, we give our readers a little one-on-one with the DJs of WONY 90.9 FM every week.
The State Times: What is your DJ name or the name of your show?
Christine Mazzola: I don't have a DJ name, but my show name is Car Rides with Christine.
ST: When do you usually DJ?
CM:Thursdays from 10 p.m. to Midnight
ST: How did you get involved with WONY?
CM: Our current programming director, Melissa, was on the e-board my sophomore year and I used to sit in on all of her shows and hang with her, and then I started hanging out at the station all the time and eventually ended up training and running for e-board myself. Everyone was just so much fun to be around and so welcoming, I knew this was something I wanted to be a part of.
ST: What is one great thing about WONY?
CM: What I really like about WONY is that we are one of the last free-format stations, meaning that DJs have the freedom to play any kind of music they like, and I think that freedom of being able to share some of your music with the community for two hours a week feels really rewarding.
ST: Are there any other shows on WONY that you love listening to yourself?
CM: A show that I really like is The Megapixel Mix on Fridays from 4-6 p.m. because I really dig the DJ's taste in music.
ST: What genre of music do you usually play?
 CM: I usually play a mix of indie, world and ambient music.
ST: Do you do anything unique or different during your segment on the show?
CM: I tend to like to stick to a certain genre each show, and to plan out my playlist so that everything flows. I really like to set a specific mood each week.
ST: What are some of your favorite songs to feature as of late?
CM: Right now, my favorite thing to play, that I've kind of been focusing the past couple of playlists around, is Father John Misty's new album I Love You Honeybear, which came out last month. It's his second album and a concept album that I'm honestly in love with, because it is amazing both lyrically and musically and full of a cynicism and wit that I really love.
ST: Why should students tune into WONY during your segment?
CM: I like to think that my show is really good to tune into late at night, because most of the time it's music with vibes that are good for doing work late at night or just hanging out, or going for a long drive alone, hence the name of my show.