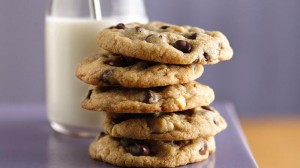 Grace Carney- Staff Writer
In the midst of reminiscing about nostalgic moments, you may remember coming home after a long day of elementary school with a babysitter, tossing your colossal backpack onto the floor and heading toward the living room to turn on the television for a 30 minute interlude before having to start homework. The best part of that mindless and blissful 30 minutes was munching on a snack. The most pleasurable days were when your babysitter offered a treat, like a bowl of strawberries sprinkled with sugar or a handful of chocolate chip cookies.
Did you know that chocolate chip cookies were invented by a woman who experimented with a butterscotch cookie recipe by adding chocolate chips, and soon became the original creator of the first chocolate chip cookie.
Born in 1905, Ruth Wakefield was raised in Massachusetts and intended to become a dietician after graduating from college. She and her husband established a small restaurant business in a hotel, called the Toll House Inn, where Wakefield gained recognition for the desserts she whipped up. One day Wakefield was preparing a batch of cookies and realized she ran out of baker's chocolate. She grabbed a bag of Nestle's semi-sweet chocolate and broke it up into pieces as an alternative. When she pulled the cookies out of the oven, she called them "Toll House Crunch Cookies," and they were an instant hit with her hotel guests.
Shortly after, her recipe was featured in a Boston newspaper. Wakefield later published her own cookbook and established a deal with the company Nestle, offering them the use of her chocolate chip cookie recipe and to sell it with their brand name in exchange for one dollar and a lifetime supply of Nestle chocolate.
Soon thereafter, Wakefield's creation had manifested into a staple product of the typical American diet, soared in popularity more than any other type of cookie ever had in the US and molded into a symbol of familial comfort and warmth on a nationwide level.
While anything in the realm of domestic labor, such as cooking and baking, fits into the box of traditional women's roles, women are also accredited for igniting the idea of many other innovative items of immense importance to us still. Some of which include windshield wipers, the elevated railway, the locomotive chimney, the fire escape, globes and the game monopoly.
Woman are responsible for a wide scope of exceptional inventions created within the past couple centuries, all for the convenience of human kind and in favor of the constantly accelerating technological advancement that define the type of society we live in today. It is crucial for us to recognize and acknowledge the many female faces who have broken outside of the stereotypical hold-his-hand-and-smile-in-the-background housewife stereotype, and fearlessly delved into a risky yet exciting realm by pushing forth their original ideas and generating a vast array of creative, practical and intriguing inventions.