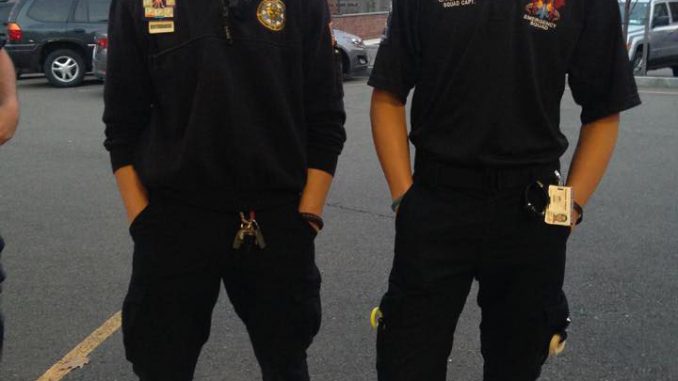 Campus News
Richie Feathers
Managing Editor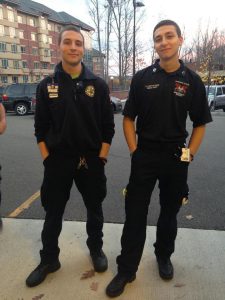 Many students at SUNY Oneonta pile a lot on their plate. Classes, clubs, work–it all adds up to a busy, stressful semester.
Officers of the Oneonta State Emergency Squad (OSES)–fellow students who double as members of this campus's voluntary emergency response team–have no less a workload than the rest of the student body, but still manage to be the responsible, reliable faces people see when they need immediate medical help. Whether it's three in the afternoon or three in the morning, OSES always answers the call.
OSES Squad Captain Chris Perticone, a SUNY Oneonta senior studying Political Science, as well as a Resident Advisor in Matteson Hall, won't deny the stress he often feels as a student balancing so many responsibilities. But he also won't deny the satisfaction he gets from knowing he's helped another student.
As a volunteer fireman at home, the Melville, Long Island native's interest in emergency services has been developing for years.
He joined OSES in his sophomore year.
"I wanted to help the college the way I do at home," Perticone explains, calling himself corny when he refers to it as a "lifestyle." "Once you figure out something you like, you want to be able to help out wherever you go, however you can."
Currently, there are about 60 people on the squad, with 15 to 20 new members each semester. This year however, Perticone was happy to say that there were almost 70 new people initially interested.
"I think we're growing," he says, recalling his own class of only 10 people. "We're definitely trying to better the squad, too."
Before the fall of 2014, OSES officers were not in service from 7 a.m. to 2 p.m., even though emergency calls still occurred with more campus traffic during the day, which the fire department would handle. But since Perticone became a leading member of OSES, officers are on call 24 hours a day, seven days a week. And he only expects the squad to continue to grow.
"Our goal is to get a second vehicle," Perticone explains. This would allow officers to answer the multiple calls at once. In addition, the squad will soon be getting a better radio system with clearer reception and plan to move their bunk room from Hulbert Hall to Matteson Hall, which would allow quicker, easier access to the vehicle.
OSES's long term objective however, is to add an ambulance to its fleet in hopes of eliminating an extra step in the process of giving patients adequate care.
According to Perticone, these goals for the squad's future are arguably becoming increasingly necessary.
"We did 84 calls in the month of September [2014]," he says. "We did more in September than [past squads] did in 2001–more in one month than they did the whole year."
When asked about his most challenging cases, Perticone recounts a recent call where he was forced to use a new, portable drug called nasal narcan for the first time to wake up an unconscious patient. The drug is sprayed in both nostrils and used for potential victims of opiate overdose.
Even with the squad's admirable history of emergency responses, Perticone still feels some SUNY students don't understand the mission of OSES.
"I think we definitely do [have a good image on campus] because when [students] need help we're there to help them," he says. "But some people look at us in the uniform and think of us as police officers, and think that if they call us they're going to get in trouble right away."
It's true, according to Perticone, young patients, especially those under the legal drinking age of 21, feel uncomfortable giving University Police Department (UPD) officers, firemen and even OSES members (who work hand in hand with UPD) full information as to why they need medical help, assuming they'll be punished for illegal behavior.
According to the college's Medical Amnesty Policy, students can contact emergency assistance without fear of judicial action. However, if a student receives emergency medical assistance related to alcohol/drug consumption two or more times, they may face charges. Regardless of the patients' activity, Perticone says, "we're there to help [them] first… so they need to tell us."
He has even asked UPD officers to leave the room for students to tell the truth about their symptoms.
"I think it's better for a student to work with another student," Perticone explains, acknowledging that once people see sirens, even if they are atop the OSES vehicle, they assume the worst.
That being said, the squad captain does believe their image is changing for the better.
"I think a lot of students look up to us," he says. "We'll take the stress to increase our care and quality of care."
How does Perticone balance the responsibilities of a busy college student with the stress of being an officer on OSES?
"You can't let the stress get to you," he explains. "You have to remember that you're a student first, which sometimes is tough when you're walking to class and the pager's going off and it sounds like a really good call you want to go to… You basically have to set your schedule. It's kind of like a repetition. But you also have to be able to de-stress. You got to be able to set time for yourself and just take everything else and put it out, because if you didn't have time for that you'd just go crazy because it's a stressful job–you see people on their worst day."
Perticone's strategy for stress management is something that every college student can either relate to or learn from.
When he walks around campus in the OSES uniform it can be easy to forget that he's just as much a student as the rest of them. And just like the rest of campus, Perticone is also looking toward a bright future. After graduation, he hopes to work for New York City as an EMT before getting his paramedic license and eventually his nursing degree, all to increase his level of care. He's also on his way to potentially be a state trooper.
"I like the emergency field," he explains excitedly. "I like the adrenaline rush–you go from zero to a hundred. You're sleeping, and then out of nowhere you're giving CPR."
Fully aware that this career field is certainly not for everyone, Perticone says, "You can't be a mediocre EMT, because if you are people die. It taught me to always know your stuff. And to stay calm, but always be on your game."
Even with the stress of the job–or, perhaps in spite of it–Perticone is proud to be squad captain of OSES, and determined to reach the goals he has set for himself.
"As an EMT or fireman, I feel like people are happy to see you," he says with a smile. "You're calling us and we're making your bad day better."