Richie Feathers, Managing Editor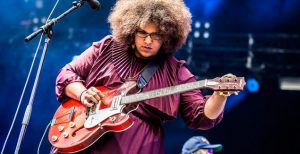 The State Times has already previewed many of the most anticipated albums of 2015, but until they're released, here are a number of new singles that don't make the waiting any easier. Mark your calendars, head over to iTunes and welcome back some of the best.
The Indie-Folk Veteran: Sufjan Stevens
Single: "No Shade In the Shadow of the Cross"
Album: Carrie & Lowell
Release Date: March 31
Indie-folk pioneer Sufjan Stevens has returned after a five year gap between The Age of Adz and his upcoming, seventh album, Carrie & Lowell. The first taste, "No Shade In the Shadow of the Cross," is a remarkable excursion from 2010's foray into electronica, recalling the Stevens of 12 years ago. The new single's spare mix of vocals and guitar harkens back to the young man of Greetings from Michigan, but with an added weight of hindsight, easily heard in his deepening tenor.
Carrie & Lowell, named after his mother and stepfather, also sees the 39-year-old grappling with the death of his absent, schizophrenic mother; "No Shade In the Shadow of the Cross" deals with drug abuse and suicide in under three minutes. But instead of overwhelming listeners with indulgent sorrow, Stevens finds a rare beauty in the dredging of such a tough–and, as he recognizes, "universal"–experience. In a recent interview with Pitchfork, Stevens explains the new album's intended message: "Everyone suffers; life is pain; and death is the final punctuation at the end of that sentence, so deal with it."
Stevens proves he's ready to deal with what he's been writing about for 15 years. In the crossfire, this new single showcases the timeless grace of a man and his guitar.
The Southern Soul Rockers: Alabama Shakes
Single: "Don't Wanna Fight"
Album: Sound & Color
Release Date: April 21
With a soulful little squeal, Brittany Howard steals back the mic on "Don't Wanna Fight," the first glimpse of Alabama Shakes' sophomore record, Sound & Color. The single, a funky stroll through retro rock, is a departure from the quartet's southern soul-rock of 2012's Boys & Girls, which contained the massive hit "Hold On." But, the tight camaraderie of the band and Howard's uncaged voice assures listeners that Alabama Shakes have lost none of their spark in the hiatus.
Rather than quickly following up their debut with an uninspired rehash, the band was much more interested in letting new ideas come naturally. Says drummer Steve Johnson to Rolling Stone magazine, "I feel like we've progressed in growing as songwriters, and while [the songs are] different…, it's still not unbelievable that it's the same band. It still sounds like Alabama Shakes, just experimenting with other sounds."
"Don't Wanna Fight" certainly demonstrates an off-center way of returning to the spotlight, dialing back the bright soul-rock for a slinky, late-night stunner. It's a return that proves Sound & Color will be worth the wait.
The Synth-Pop Soprano: Passion Pit
Singles: "Lifted Up (1985)," "Where the Sky Hangs"
Album: Kindred
Release Date: April 21
On 2012's Gossamer, Passion Pit mastermind Michael Angelakos combined electro-pop mastery with personal accounts of his suffering from bipolar disorder. The mix of technological sheen with dark, human imperfection created a memorable record–and a worthy followup to Manners's stack of synth-pop gems. For album number three–called Kindred–these two new singles each recall a different period in Passion Pit's discography.
Album opener "Lifted Up (1985)" is an unabashed dance tune, treading the line between Coldplay's Mylo Xyloto-era vibrancy and a Madeon-inspired anthemic pulse, the latter of whom Angelakos recently collaborated with. It also recalls the debut's most optimistic standouts–think the spirit of "Moth's Wings" with the stamp of "Make Light." But "Lifted Up (1985)" doesn't just sound positive; it actually is positive: "1985 was a good year/The sky broke apart and you appeared/Dropped from the heavens, then you call me a dreamer/I won't lie, I knew you would belong here."
"Where the Sky Hangs," with its bouncy, electronica groove, is a more subdued affair than "Lifted Up (1985)," bringing to mind a pared down "Carried Away." The single also shares sonic DNA with another 2012 cut: "Constant Conversations." While "Where the Sky Hangs" doesn't have the same rapturous appeal as "Constant Conversations," the Gossamer highlight's electro-R&B stutter sounds like an obvious ancestor to the single's effortless flow. (Interestingly, "Where the Sky Hangs" also recalls the pre-Manners Passion Pit tune "Cuddle Fuddle.")
Although these new singles certainly borrow from Passion Pit's back catalog, both of them showcase a different, happier Angelakos from three years ago. Whereas Gossamer laid out bare the singer's disorder, perhaps Kindred will be the aftermath, the picking up of those pieces.
The Orchestral Chanteuse: Florence + The Machine
Single: "What Kind of Man"
Album: How Big, How Blue, How Beautiful
Release Date: June 2
After the back-to-back recording of 2009's Lungs, which featured the unstoppable "The Dog Days Are Over," and 2011's Ceremonials and the subsequent non-stop touring, Florence Welch deserved the year off she granted herself. However, the Londoner didn't expect her free time to feel like such a burden–"It was sort of a crash landing," Welch says to Rolling Stone magazine of her time off. The year saw many highs and lows as she tried to readjust to a quieter life, eventually succumbing to a nervous breakdown and a bout with alcohol. As a result, Welch's third album as Florence + The Machine is "dealing much more in reality." She has also called it her most personal record.
Lead single "What Kind of Man" certainly finds a heavier, darker Welch since the orchestral majesty of Ceremonials last left listeners; her big sound is still here, but it's rooted in a more natural gravity of live instruments. Beginning as a gentle ballad, the singer crawls through her recent past before standing up on a surging blues-rock guitar, tambourine and pounding beat. With an anthemic horn section and backup gospel choir, "What Kind of Man" is a mighty return.
Recalling the punk stomp and scorn of early hit "Kiss With a Fist" and the vocal range of Ceremonials's best moments, Florence + The Machine's new single sees the singer rekindling with her past and moving forward.