Artistic expression is one of the few things in life that is wholly unique. Whether it is one's interpretation of a sunset or a rendition of a famous song, art continues to push boundaries through the unique perspective that an artist sees their environment through.
The validity of this statement is exemplified in Zena's Phocus and Exposed, which are photographic exhibits that incorporate both. One can find these thought provoking exhibitions on display until March 19 in the Project Space Gallery, located in Fine Arts. While Zena's Phocus and Exposed are different in style and technique, both exhibitions prove that art harnesses creative ingenuity and produces greatness.
Zena's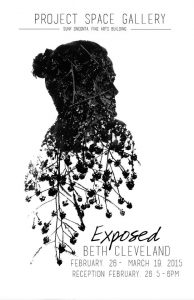 Phocus features the world through the eyes–better yet–the lens of junior Zena Ballas. The collection of work focuses on the overlooked details in life. Completed entirely in black and white photography, Ballas mixes digital prints, which allow for better manipulation of the medium, and traditional film to achieve "rawness without distraction" in her work. The black and white imagery is captivating and provides the exhibition with a darker, more serious tone. Ballas' work employs interesting angles and perspectives, which forces the audience to question the significance of the composition. Interestingly, Ballas as an artist made the executive decision to leave her pieces untitled due to her belief that the viewer should take away what they want from the work and "breathe in their own inspiration."
Inspired by the simple things in life, Ballas' photographs reflect an introspective quality.Abstraction is a motif throughout the exhibition, however, she takes this concept  to the next level and perceives the ordinary in a new, exciting way. The abstraction in Ballas' pieces allows the viewer to supplement oneself into her work, creating an otherworldly vibe. And that is exactly what her work is–otherworldly.
Beth Cleveland's Exposed is a double exposure series that is beautiful in its complexities. By employing Photoshop as the main tool in Exposed, Cleveland is able to further manipulate her photographs in a way that challenge perspective and encourages the viewer to look beyond the surface.
Exposed features numerous portraits with a unique twist: each picture has a duel picture incorporated within it. The enhanced silhouettes are intensely original and personal in their combination of urban environments and natural landscapes. This mix of the physical beauty that is the natural world and the emotional beauty that is intrinsically human speaks volumes for artistic innovation.
While the majority of the collection is black and white photography, a select few stand out for their use of saturated color. However, all of the  pieces are stunning because of the raw emotion that resonate through the already poignant landscapes. As with any artist, Cleveland exposes herself on a personal level through her work. There is an unstated idea of pairing the familiar with the unfamiliar, such as a familiar face with an unfamiliar landscape, to better reflect the places she has traveled and the people she has encountered.