Cheyenne Dorsagno, Staff Writer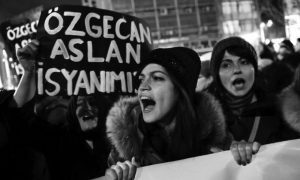 On February 11, 20-year-old Ozgecan Aslan of Mersin, Turkey was kidnapped while walking home from college. Upon allegedly resisting rape with pepper spray, the aggressor retaliated by hitting Aslan over the head with an iron pipe and stabbing her to death.
Her burnt body was found two days later.
The most obvious way to bring peace to this tragedy would be to convict someone for the crimes. Three suspects have been taken into custody–a minibus driver, his father and a friend. For many, justice has already been done.
However, thousands of women met in the streets all over Turkey to protest the violent abuse of women. According to local reports, nearly 300 women were murdered by men last year in Turkey. Over 100 of those women were raped. This is a rising trend of violence against women over the past decade. Women's activists attribute this to the paradigm of their nation–that of a "men's state." Aslan's murderer not only commanded ownership of her body but punished her for resisting, as if it was his right to have her.
One activist named Zeynep said that Islam has become a radical environment that unjustly empowers men to inhabit this sexist nature. They expect women to be conservative and believe in their entitlement to punish them otherwise–or just control any woman in any way they choose.
Some of those protesting have appeared painted to make them look as if they have been beaten, while most of them hold pictures of Aslan or signs saying, "Enough, we will stop the murder of women!"
Many women are scared for themselves and each other. These protesters hope that their actions will make a change in convincing people that it is not acceptable to abuse women.