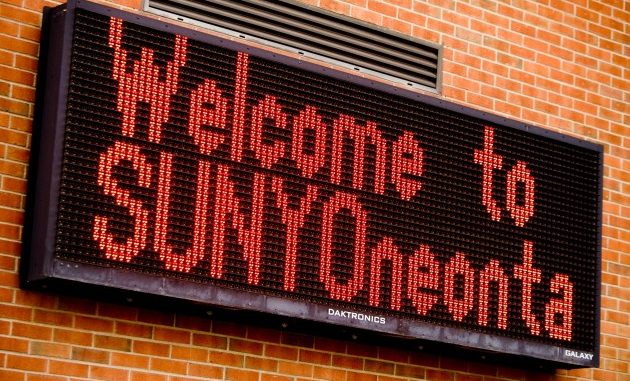 Astrid Ressler
Contributing Writer
A new policy has been enacted on the Oneonta State campus regarding romantic and sexual relationships between SUNY Oneonta students and staff.
The Consensual Relationship Policy, as it is being called, raises multiple concerns about these relationships between the school's employees and its students. The new policy also states the many consequences that can result from choosing to take part in such relationships.
Through this policy, the administration reminds us that the goals of Oneonta State and campus employees are to promote the exchanging of ideas, the building of trust and respect and also the encouragement of communication.
With that in mind, the policy goes on to read that "Romantic or sexual relationships between employees and students over whom the employee has current supervisory, instructional, or other professional responsibility are prohibited." Failure to comply with this policy may lead to disciplinary action, including sexual harassment charges. The Consensual Relationship Policy also states that such relationships may damage the credibility and reputation of the employee as well as the college.
The Oneonta State administration feels that these types of relationships have the serious potential to lead to "a real or perceived impropriety, sense of favoritism, loss of objectivity and a conflict of interest in any supervisory, instructional, or other professional role." A relationship between a student and a member of the staff has the ability to negatively affect the other students with whom the staff member may work with.
It is very clear that the reasoning for the new policy is to protect and preserve the safety of the students. There is an inherent inequality of authority between the staff and the students on campus, and as the Consensual Relationship Policy reads, "this imbalance makes it difficult or impossible for the student to genuinely consent to entering into an amorous or sexual relationship and may impede the real or perceived freedom of the student to terminate or alter the relationship. All of these factors negatively impact the student's ability to benefit from the college."
The SUNY Oneonta administration wants to make sure that students know that the message behind this policy is that of concern and safety.
It is considered the responsibility of the employee to disclose any type of relationship with a student that he or she may be involved in to his or her supervisor, the Human Resources Department or the Affirmative Action Office. The staff member is also asked to remove him or herself from any situation that violates this policy.
Any student who is involved in a romantic or sexual relationship with a member of the campus staff is also asked to report the relationship to the Affirmative Action Office in the Netzer Administration Building, room 133 B.