Lesley-Ann Dries, Contributing Writer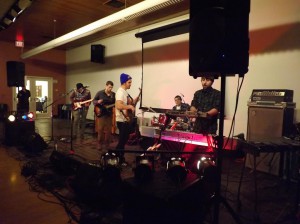 If you're into up close punk, psychedelic rock or melodic acoustic punk then you missed out if you weren't at the Music Industry Club's first show of the spring semester on Friday, February 13. The show featured bands both familiar and unfamiliar to the Oneonta music scene, such as Everything Ever, Ahnest!, Desafinado, Young Statues and KLOZAPIN. It was a great way to spend a Friday night: chillin with a Starbucks vanilla latte, or whichever beverage you prefer, and jamming out to some live tunes.
As Music Industry Club shows tend to be, the event was packed with longtime fans and friends of the bands, as well as students new to the MIC scene. The bands eagerly caught up with those they  knew, or intimately spoke with audience members that were seeing them for the first time. Many of the bands hung around to watch those that followed them in the lineup.
Everything Ever of Staten Island, New York and Bergen County, New Jersey–and a band familiar to the Oneonta music scene–consisting of John Trotta (bassist/vocalist), Andrew Paladino (guitarist/vocalist) and Zach Sandel (drums) were first to take the stage. Their upbeat punk tunes crash over you and their vocalists took the front of the stage with enthusiasm.  The band plans to release the album Solid Ground on March 10.
As a solo set, Ahnest! brought things down a bit. Nick Burger hails from nearby Syracuse, NY. Burger plays both the electric and acoustic guitar and sings. His original lyrics are profound, emotional and clear.
Desafinado is a different kind of band, one that an audience rarely sees on a stage. This band consists of Kevin McCauley and  Michael Vincent on both guitar and vocals, bassist Nick Rossman and both Justin Cestra and Nick Palazeke on drums. They're self described as "alternative, rock, and indie."  What was truly unique about the band is not only their doubling of parts, but their wide use of instruments, ranging from a vibraphone to a saxophone. It was incredibly interesting to watch and sounded experimental.
Young Statues, a well known  indie/rock group from Philadelphia, PA, includes lead singer and songwriter Carmine Cirignano, bassist Tom Ryan, guitarist Matt Weber and drummer Daniel Bogan. The band's sound is echoing and haunting, Cirignano's vocals  soft and  cool as they rush over you.  There was something  irresistible in the gentle melodies of the band's set.
KLOZAPIN is a SUNY Oneonta alumni/student trio.  They consist of guitarist and vocalist Mitchell Todorov,  bassist/vocalist Paul Simone and drummer Nick Connor. The psych/noise/pop-punk band   played songs off of their recently released, self-titled LP.  Their sound was unlike  any of the other bands who played  that night, songs       psychedelic and trippy to their core.  Melodies surrounded you , making you feel  as if you could float.
Don't be too hard on yourself if you couldn't make it to this talent-packed show because there is another show on its way. Music industry Club plans to host its second show on Thursday, March 5, at 6:30 p.m. at Hunt Union
in the Waterfront Room. For those of you who are rookies to the campus show scene, tickets are available at the door. The mostly punk line-up that will be graciously playing for our ears includes: SUCH GOLD, Living.Proof., Bray, American Lions, Entropy and Hideout.