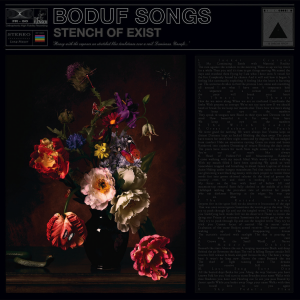 Douglas Llanes, Contributing Writer
Boduf Songs is the project of England's Mat Sweet, a haunting musical exploration with a variety of soundscapes stretching from dark folk to strange electronic pieces, and everything in between. The project began in 2004 when Sweet recorded the first Boduf Songs demos. These demos were well received as Kranky records released them the following year. Since then, Sweet has been releasing a slew of albums and EPs through many different labels. He also runs his own label called Bluebaby, and has played in several other great bands such as the doom metal outfit Map of Hell and the post-rock band Four Man Ghost.
Stench of Exist is the kind of album that needs to be listened to with the lights off and the curtains drawn. It's gloomy atmosphere and dark overtones fill up your entire head, leaving no room for other thought or emotion other than what Sweet wants you to think and feel. The album opens with a short noise drone track called Jacket Cruiser, which abruptly creates the ambiance that holds the rest of the album preparing you for how your heart strings are going to be pushed and pulled.
The album then continues to push forward with simple melodies, beautiful lyrics whispered by Sweet and an incredible use of noise and sampling to create an ambiance. The aesthetic of this album resonates with the heart of anyone who has ever been in pain. The simple melodies flow in a way that make your heart ache while Sweet uses various noises and samples to create a thick layer of noise that doesn't overwhelm you, but takes over every inch of your brain. He uses varying sounds from the chatter of a crowded room, to the sound of rain falling, to the feedback of an analog delay pedal. This particular noise is used on my favorite track, "Modern Orbita." All of these interesting soundscapes help the album progress forward, vary the sound and make your heart heavy.
Sonically, this album captures a very specific mood and ambiance that make it an incredibly enjoyable listen–the only problem is that the listener is not overwhelmed as much as they should be at certain parts. This is a very small complaint as the album still flows and feels fantastic.
Tom Sweet's vocals and lyrics are very important in pushing the album forward and giving the listener food for thought. Some tracks are completely instrumental and help to create an ambiance, but when Sweet begins to whisper melodies it does an incredible job of embellishing what is happening sonically. Sweet's lyrics make reference to a lot of old English folklore, and although their subject may be rooted in such lore they always manage to pin point a particular emotion.
One segment of lyrics from the song 'Thwart by Thwart' resonates in particular: "How do we move along/When we are so confused/Coordinate the limbs/With process so corrupt/We're not too sure now/If we should bend or break/So we keep our mouths shut/That's how we move along/We keep an eye on the numbers."
Sweet manages to put into words how humans manage to move forward, completely unsure of what they are leaving behind, trying to find something that we can grasp on to and make sense of, but in the end we are all confused and unsure of what is really happening around us inside our heads.
Although sometimes this album is underwhelming, it truly is a fantastic listen. It holds your heart in a way that it makes it almost necessary to listen to. This album deserves all the praise it has gotten. It has been released through Flenser Records.
Bottom Line: for a sweet girl band, they've certainly covered all their bases. A-
Worth Checking Out: "Worth It" ft. Kid Ink for a round-up of what they're doing right