Marielle Genovesi, Arts Editor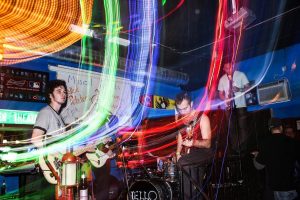 Baked Potatoes are a SUNY Oneonta student/alumni band that describe themselves as a Reggae/Punk/Ska/Jam/Good-Vibe band, and they definitely fill all these descriptions. Having been to many of their shows myself over the past couple years, I can attest to the lively atmosphere they draw as a live band. Their shows are energetic, fun and are definitely meant to be enjoyed with a cold alcoholic beverage in hand and an intention to have fun and let go. I recently interviewed them following the release of their new EP, Waiting For The Weekend, and had a chance to get to know some more about the band.
Marielle Genovesi: I've seen you guys play a number of times, a lot when I was an underclassman. From what I understand you started in Oneonta. Is this true? If so, tell me about the beginnings of your band.
 
Joe Kaplan: (Guitar/Backup vox): We started in Oneonta around mid-April of 2013. Andrew Orlean and I were playing in a RHCP cover band that was kind of on the skids at the time. Pat then got a hold of me and asked me if I wanted to play in a reggae/punk band and I immediately jumped at the chance. I was strictly playing funk and jam music and I wanted to branch out and start playing a different genre; something that would purposely bring me out of my comfort zone. I originally met Pat my sophomore year of college and we joined a metal band know as Nominal Fallacy. We became friends during our tenure in the band. The day I walked into our first practice as a full reggae band, I had no idea I already knew almost everybody in the band from the Music Industry courses I took over the years. We clicked almost immediately! Shortly after this, we played our first show in front of 10 people at the NORML 4/20 Festival. It was a very interesting experience.
MG: I've always wondered how you guys arrived at the name of your band–is there a story behind that?
Joe Kaplan: We came upon our band name when we were throwing names around after a night of partying. Andrew Orlean, our beloved bass player, jokingly suggested "Baked Potatoes" and we all starting dying of laughter. With much pontification, we realized this was a good name because it grabs the listener's attention. Whether we liked it or not, the name just stuck after that.
MG: How has Baked Potatoes developed since its start? How has it stayed true to its roots or transformed?
 
Joe Kaplan: As a band, we went from strictly playing reggae and fast punk music to deriving from other aspects in the musical spectrum. Over time, we've borrowed elements from jazz to hard rock and the list just goes on. We constantly want to be moving forwards and changing our sound, otherwise it just gets boring after awhile.
MG: Where do your influences come from–not only musically, but what inspires the content of your music?
Pat Tierney (Lead Vox/Rhythm Guitar): I think what makes us so entertaining as a band is the vastly different genres we all pull our influences from. I personally listen to a lot of Peter Tosh and Bob Marley, but not everyone in the band is that way. Aaron and Andrew Platt listen to lots of jazz, I know Jesse's a big fan of Pop Punk–as am I–Andrew Orlean loves the Chili Peppers and definitely adds funk to the band, and Joe listens to heavier music like Kyuss and Black Sabbath.
As far as writing the songs, I really enjoy the fact that our band makes people laugh. Some of us may not be in college anymore but our music is definitely about college humor. Some of our most popular songs have stemmed from hanging out in our living room just joking, "what if we wrote a song about…"
MG: I know that Baked Potatoes is mostly an Oneonta alumni band and are no longer solely based out of Oneonta. So, are you all living relatively close to each other, because I know you're a large [7-piece] band, how do you meet to practice or work on music?
Jesse Hermann (Alto Sax): We are actually spread out across New york pretty far.  Throughout New York, we are located on Long Island, in Syracuse and in Oneonta.  Two of our members, Andrew Platt (drums) and Aaron Roman (trumpet), still go to SUNY Oneonta.
MG: What is Baked Potatoes up to now?
Jesse Hermann: Currently, we are playing any show that we can, doing interviews with a few websites and planning a summer tour for mid August.
MG: You recently released an EP titled, Waiting for The Weekend, tell me about putting the record together.
Jesse Hermann: Waiting For The Weekend was in the works for about a year before we actually released it.  Recording that album was a lot of fun and brought us closer as a band through the process.  We tracked everything in Studio A at SUNY Oneonta and recorded live with the help of a few friends.  We recorded nine songs in total and then picked six songs that we thought came out the best.  Then we went to Dryhill Studios in Oneonta to have Andris Balins polish up our recordings by mixing and mastering everything.  We then released four of the songs on Waiting For The Weekend.
The two songs that we have yet to release are titled "Scuba Diving" and "Road Trip".  We are planning to record at least one more song while we are in Syracuse at the end of March at SubCat Studios where our singer Pat now works.  Once we have all of our songs completed we are going to release a joint EP with Oneonta alumnus band Samurai Pizza Cats who will be playing at The Oneonta Theatre on March 21 with Big Mean Sound Machine.
 
MG: What are some of your favorite songs to perform live?
 
Pat Tierney: Originals I would probably say "Quicksand." It's different than most of our originals and it's fun to play and full of energy. I hope we write more songs along that style.
Cover-wise, we do a cover of "It Wasn't Me" by Shaggy that sometimes we transition into other songs "54-46, Legalize It." We sometimes have our friends come on stage and attempt to rap the fast part, one time I used a vocal transformer; we never seem to play it the same way twice, but it's always entertaining.
Joe Kaplan: I personally love playing "Sick Of Feeling Like Shit," which is by a punk band known as The Secretions. The song was originally a straightforward punk song but we put a reggae twist on it. We actually play half the song in reggae time and the other half in super-fast punk time. It definitely throws everyone in the audience through a loop. I also love playing "Dammit Woman Don't Cry" which is a medley of Blink–182's "Dammit" and Bob Marley's "No Woman, No Cry." We formulated this medley shortly before our big debut at Oh!Fest. Again, we go back and forth between reggae and punk rock.
Salvation is also another favorite of mine. I wrote the song shortly after a breakup with my girlfriend at the time. Pat came up with the hard rock intro and it meshed perfectly with the song. The first part of the song was inspired by the Bad Brains song "I & I Rasta" while the 7/8 triplet part was inspired by Triumph's "Never Surrender." The subject matter of the song deals with me wishing this girl infinite happiness and peace, even though all of her friends, as well as myself, have abandoned her due to her selfish ways.
MG: Are there favorite venues you have played?
Jesse Hermann: I would have to say Funk 'N Waffles in Syracuse, NY is my favorite venue that we have played at so far.  It will be interesting to see the new one that they opened downtown Syracuse when we play there on March 28 with Subsoil.
MG: Do you have favorite crowds to play for?
 
Jesse Hermann: My favorite crowd to play for is our Oneonta crowd.  At every Oneonta show we see so many fans, friends and new faces that it is always a fun time.
MG: What are future goals of Baked Potatoes? Are you planning tours and writing more music?
Baked Potatoes: We have many future goals as a band.  The biggest two at the moment are to record a full-length album and to go on tour.  We are planning a tour mid to late August this year and are hoping to have a few of our friends' bands on it with us.
MG: What do you miss most about being in Oneonta?
Baked Potatoes: What we miss most about all of us being in Oneonta is being able to practice all of the time and throw house parties whenever we wanted where we could have our band and other bands perform.