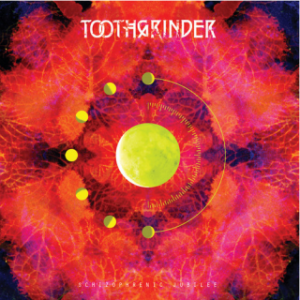 Aaron Kreiver, Contributing Writer
Schizophrenic Jubilee is an appropriate name for Toothgrinder's most recent EP. The five-track release is a whirlwind of musical passages that few people outside of the band members themselves could understand upon first listen. The band's chaotic music may be a turn off for some, but those in the contemporary metal and hardcore scenes will find this album to be a treat.
The mathcore influence is the most prominent feature of Schizophrenic Jubilee. The numerous tempo changes and jazzy solos over top heavy breakdowns in songs like "The Hour Angle" and "Relic Of My Youth" would make The Dillinger Escape Plan proud. Their clean sections and spoken word passages are more for the benefit of the listener, giving them time to catch their breath and prepare for the next musical assault. The lyrics are laden with metaphors and are catchy at the most appropriate moments. 'Polar Complex: Schizophrenic Jubilee' boasts a unique anthem, with the repeating lyric "Save yourself/I can't, I won't stand for this" forcing its way into the listener's brain for a good two minutes. "Reality Juggernaut" contains a frightening breakdown where the lyrics really shine: "Your conscience is the key/ To the beating of a broken home/ We hide beneath the sheets/ Like a mother holds her unborn son/ The blood that's on my face/ The markings of a grinding pace/ We try to play the part/ Of a life giving love to those without heart."
Vocalist Justin Matthews changes from gritty hardcore screams to eerie spoken word segments at the drop of a hat, usually to accompany a major musical shift. The guitar duo of Jason Goss and Matt Mielke play off of each other with unique harmonies and harsh rhythms that are reminiscent of Mastodon and Between The Buried And Me. Bassist Matt Arensdorf has no trouble keeping up with the guitars, choosing impactful grooves over technical showmanship.  Drummer Wills Weller, last but certainly not least, drives the songs with his calculated beats.
Fortunately,the band isn't swept up in their own ambition on this release. The music is progressive and thought out, but doesn't become stale. This may be because the E.P. is only about 17 minutes long, which allows the listener to appreciate the music without getting worn out.
If you're searching for a new band that will give your brain a workout, look no further than Toothgrinder. "Schizophrenic Jubilee" is a discordant journey that may take a few listens to fully appreciate, but it won't leave your radar anytime soon.