Pat Boody, Staff Writer
Pennsylvania has been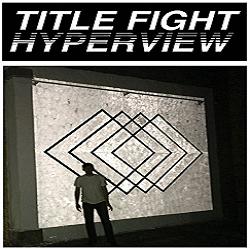 well renowned for producing great punk music, as many new bands on the scene can verify. The favored band of the underground punk scene is Kingston, PA's own Title Fight. February 3 marked the release of their third studio album, Hyperview.
Hyperview takes a distinct turn from their previous efforts and has certainly been acknowledged for doing so. Purist fans have been less receptive to the few songs released prior to the album dropping, but fellow musicians, such as Superheaven and Code Orange, have publically announced their support for the direction the band has decided to take.
Changes in label and sound are worth noting in the new album as both have allowed Title Fight to further develop as a band. Formerly beloved for their succinct, defined punk sound, the newest addition to their repertoire deviates from this. Comparable to the shoegaze sound of the 90s, Title Fight puts their own original twist on this re-emerging sub-genre that seems to be breaching the surface amongst other contemporary punk bands as well. Previously releasing their records under Revelation, Run For Cover and SideOneDummy Records, Hyperview has been released under ANTI-Records. Although containing nuances of the shoegaze sound, Title Fight truly followed their own paths, not letting outside influences deter them from creating the record they wanted to make. Avoiding pressures from discontented "fans," and producing a record with a new sound, it certainly leaves an impression with its hard-hitting lyrics and innovative sound.
The cover art work is interesting enough, but it can also be considered an allusion to the creative energy and direction in which the band took the record. A mural in Kingston, was painted on a street corner and after its completion they had their friend pose for a photo with it. Depicted is a black and white rendition of the mural along with the band's friend portrayed as an obscure figure alongside it. Moreover, setting the tone is the opening song, "Murder Your Memory," but the album really begins to open up with "Chlorine," which follows it.
Overall, Title Fight's new release deviates from their previous works; it's unique, darker and more abstract yet refined, while remaining evident that the previous records influenced this one. It can be ascertained that a new sound was found and utilized for the creation of this record. Nevertheless, you can still hear the Title Fight that has been enthralling listeners since their inaugural release, The Last Thing You Forget.
Rating: 9/10