Hannah Griesel, Staff Writer
I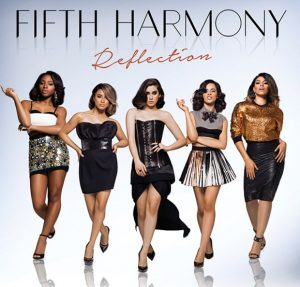 t's hard to discuss Fifth Harmony without mentioning One Direction. Both groups were formed by Simon Cowell on the  X Factor, U.S. and U.K., respectively, out of five singers who weren't strong or marketable enough to make it on their own, and both groups placed in third of their competitions. Perhaps after the insane success One Direction has achieved the similarities are anything but daunting for the girls of Fifth Harmony.
The girl group released their first EP, Better Together, in the Fall of 2013, ranking at number 6 on the U.S. Billboard 100. Their single "Miss Movin' On" brought them attention and even won an MTV VMA for Artist to Watch in 2014.
However, as many critics note, the girls of Fifth Harmony still had a lot to learn after the release of their EP, and many would agree that they got it together for their debut full length, Reflection.
Reflection is doing everything right for marketability, much like the start of 1D's career. The album is packed with feel-good confident anthems, fun dance-ready beats and pop culture references.
"BO$$," the album's first single, jumps in right away declaring, "I want a Kanye, not a Ray-J," though it becomes evident that the girls don't need either men to get success. The song also credits the success of Michelle Obama and Oprah as inspirations for the kind of "boss" these girls are or plan to be.
"Sledgehammer," the second single, was co-written by Meghan Trainor. The theme of this song takes a step away from the feel of the album–here the girls are singing about being nervous from love rather than self-assured. However, the song is redeemed by its extremely catchy hook–this is what the group needed to really be noticed in the pop scene.
The album's third single, "Worth It," kicks off with the type of horn melody that Jason Derulo owned on his last album. Here, we've returned to the confidence. The song also includes subtle sexual references which edge it up for an older audience, while still being PG enough to go over the heads of the younger crowd that girl groups are sure to attract.
Though most of the album keeps up the momentum, there are still some weak spots.
"This Is How We Roll" is the weakest lyrically–completely composed of loose mentions to partying like jumping and clapping and getting crazy. Still, the song's dance rhythms are sure to go over well with some.
"Them Girls Be Like" has received mixed reviews. This song delivers a female empowerment message- but at the expense of females who try too hard. References to no-filter selfies and "I woke up like this" keep the song in the moment, but could seem dated when these ideas aren't all the rage in a few years.
The girls certainly aren't afraid to give credit where credit is due by paying tribute to the great women in music who have paved the path for them. Besides a full song about singing like Mariah Carey, the influence of girl groups like TLC and Destiny's Child is obvious.
"Suga Mama" is an updated "No Scrubs"–these girls may be earning money, but that doesn't mean they'll be supporting a no-good boyfriend who won't get a job. "We Know" sounds like "Bills, Bills, Bills" and goes on to show off the unique vocal styles of each of the singers.