Cady Sharp Kuzmich, Editor-in-Chief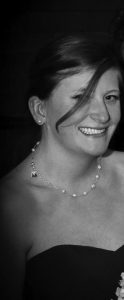 An old friend of mine got married over winter break and asked me to be a bridesmaid. We used to run long muddy miles in the woods together in high school. Now she's joining the Marines along with her new husband and living down south. When she first asked me to be in her wedding months ago, we talked about the frightening bits of life that lie ahead for both of us—the deep dark unknown variables.
The unknown approaches faster and faster as graduation grows nearer. While not knowing can be daunting at times, I think we should embrace the questions that lie ahead. My friend made it clear to me that sometimes you just need to stack your worries away and leap towards what feels right—a piece of advice I've looked back on often.
While some of my friends are in law school, joining the Marines, studying for the GREs, volunteering with AmeriCorps and student teaching, I'm planning a hike—a five-month 2,668-mile hike from Canada to Mexico. I'm not making the trek alone, though. I have a partner who pushes me to reach for things I would have otherwise written off as pipe dreams out of my grasp. With the help of loved ones, we'll be cooking, dehydrating and packaging five months of trail food in between work and classes this semester.
As for my post-hike agenda, I have nearly finished my certification to teach English abroad. A TEFL (Teaching English as a Foreign Language) certificate can be enormously helpful when applying for teaching positions overseas and when applying to the Peace Corps, both of which I'm considering. Now, I'll be focusing on investigating teaching opportunities in Ecuador, Taiwan and South Korea.
As a freshman at SUNY Oneonta I thought I would have a fairly decent idea of what I wanted to do with my life by the time graduation rolled around. I am pretty sure I wouldn't have guessed I'd be planning to thru-hike the Pacific Crest Trail or considering teaching English in Taiwan. However, when taking into account my lifelong love of trails, language, travel and working with children, my post-grad plans seem fitting.
As I enter my final semester as an undergraduate student, I can't say that I know what kind of job I want to be working in ten years, or even five years for that matter. Still, I feel good about my future because I have come to terms with not knowing. Just think of the freedom that comes along with the great unknown. I'm confident that I'll wind up in the right place, whether that place is in a tent on the trail, at a newspaper in Albany or at an English language school in Taiwan.
After all, some of the best things in life come along unexpectedly.