Marielle Genovesi, Arts Editor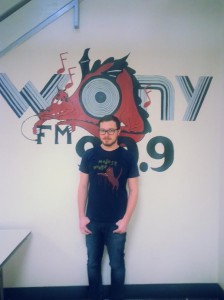 The State Times: What is your  DJ name?
Chris Uhlein: I am DJ Blue Cadet, and yes, I do connect.
ST: At what times do you usually DJ for WONY?
CU: My show, Interstate 88, is on the air every Sunday from 6 to 8 pm.
ST: How did you get involved with WONY?
CU: I transferred here last semester from Monroe Community College in Rochester, New York and got involved with their radio station WMCC The Fuse (now called The Pulse) and had a really good time there. So it was a no brainer to come to join the WONY family when I got here!
ST: How long have you been involved with WONY?
CU: Since last semester.
ST: What type of music do you usually play?
CU: I play mostly indie rock, but I also play a lot of blues rock and alternative, stuff along those lines. Almost everything is from the 90s and onward. I like to play music most people wouldn't find without a word-of-mouth recommendation. There are so many bands that you can ask anyone and they'll say they've at least heard of them, but there are way more amazing small-time bands making music under the radar. I'm trying to get those guys on the air. Of course, I also play all of the obvious greats of the genre as well, Modest Mouse… Jack White.
ST: Do you do anything unique or different during your segment on the show?
CU: I like to spin vinyl a lot, I think I might be the only DJ at WONY that plays records on the air. Every show I'll bring a few records to play. Last show I actually brought my entire collection and a second turntable to the station and just spun vinyl back to back for two hours, which was really fun.
ST: What are some of your favorite songs to play as of late?
CU: "Entitled" by Caddywhompus,
"Water Under Burned Bridges" by Mimicking Birds, "Why I Like The Robins" by Hum,
"Travelogue" by Duster,
"Alone In My Home" by Jack White,
"Life Like Weeds" by Modest Mouse,
"Big Dipper" by Built To Spill.
ST: Why should students tune into WONY during your segment?
CU: I guarantee you'll hear lots of new music you'll love! Check it out.