Monica Dore, News Editor 
The recent midterm elections yielded the most disappointing voter turnout in 70 years. According to the United States Election Project, only 36.4 percent of registered voters showed up to the election booths, and college millennials made up a large portion of those who were absent.
A recent study conducted by college marketing agency Fluent found that in a group of over 1,200 college students ages 18 to 26, 53 percent admitted they did not vote in the recent midterm election, despite 65 percent being currently registered with a party.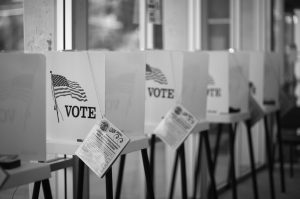 Lack of interest was not the main reason for low turnout, the survey said. The leading reason young voters did not participate this year was because most felt they "don't have the time." 35 percent of the surveyed students reported that they felt they had no time to vote. Other reasons included not being registered, not being interested, feeling uninspired by candidates or simply forgetting.
Increased voter turnout among college students would likely be most beneficial to democrats, as over half of college students are registered to that party.
Traditionally, the midterm turnout is lower than that of presidential elections. The Fluent survey reported that for the 47 percent of college students who did vote, the races for Senate and Governor were most important. Races for local town officials mattered least to college students, many of whom think that voting in only the "bigger" races is important.
Vermont Senator Bernie Sanders is sponsoring an idea to increase voter turnout: Democracy Day. If passed, the bill will turn Election Day of each even-numbered year into a federal holiday. In 2008, 2.6 million eligible Americans who did not vote claimed it was because they did not have enough time. With Democracy Day, Sanders hopes people will have more time to get out and participate in our democracy.
Designating one day every other year, Sanders thinks, will lead to a society more involved in the political process. "While this would not be a cure-all, it would indicate a national commitment to create a more vibrant democracy," said Sanders.
Although opponents say there is no evidence that a federal holiday would help, it is something to consider in order to disrupt the trend of a plummeting turnout.