Hannah Griesel, Staff Writer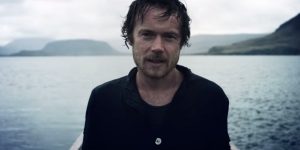 In March of 2008, my mother played me a recording she had saved on DVR of Damien Rice performing "Rootless Tree" on From The Basement. We were so taken aback by the beautiful sadness of his music, and the way his neck tensed as he sang the lyrics at an increasing intensity. We still have the episode saved to this day, and it's definitely worth a listen if you haven't heard Rice before.
My Favourite Faded Fantasy comes after eight years of recluse in Iceland. Rice, an Irish singer-songwriter, debuted with O in 2002, and followed it up with 9 in 2006. Though his second album didn't receive the same praise as his first, Rice is a well-respected musician, and for good reason.
Alex Young for Consequence of Sound notes how Rice has changed as a person since he was last on the music scene: "In 2006, he was a 32-year-old romantic with a sharp wit in a public relationship. In 2014, he's a 40-year-old recluse returning to the public eye with a renewed purpose: finding a way to move on." He notes, however, that his personal change hasn't impacted his song writing. The eight tracks that make up this album are as beautiful as ever.
Rice has indeed picked up where he left off, but with the addition of years of experience, whether positive or not. He struggles with getting past a failed relationship throughout the course of the album. He addresses his feelings of longing and regret, and acknowledges that possible pointlessness of his recluse in "Colour Me In," "All these useless dreams of living alone". These songs are journeys, averaging over six minutes long each and most progressing in intensity.
He experiments with new sounds at times, like in the album's title track. It's a bit eerie and mysterious, and Rice sings in a high octave. "The Greatest Bastard" has his folksy sound that brought him into the music scene, but somehow with a more mature feel to it. His vocals grow in strength along with the instrumentals, and he sounds like he's trying to cover his sadness with a smile- trying to blame himself for what went wrong while on the verge of breaking down.
"My Favourite Faded Fantasy" has received extremely positive reviews. Stephen Thompson for NPR wrote, "There's nothing reluctant or halfhearted about the bold, dreamy, impeccably rendered music" on the album. Sputnik Music called the album superb, writing that, "one of the most outright depressing yet simultaneously beautiful records of 2014."
Damien Rice is a rare artist who can bring you into his world and make you feel what he feels, even if it has no relevance to your life. His third album is beautifully concise and well worth the 8 year wait.