Becca Pollard, Staff Writer 
On November 6, in the Hunt Ballroom, Oneonta held the 15th annual Cornell-Gladstone-Hanlon-Kaufmann Lecture. Virginia and William Kaufmann are responsible for the establishment of this yearly lecture through a gift they gave to the College at Oneonta Foundation in 1999. This year's speaker was John Cronin, most famously known as the Hudson River Keeper from 1983 to 2000. Although he has worked with the river for 40 years now, he described his profession as one that was "unexpected" and "not anything [he] chose."
Growing up, Cronin had only a few associations with the Hudson. The first being that "The good Lord created the river to separate New York from New Jersey." Cronin said that when he was a child the Hudson was often described as "dirty" and as a source for the poliovirus. He explained how no one used the word "pollution" to describe the river but that people thought of it as "something suspect, something dirty…that's the way I thought of the water, as a city kid." He spoke about how although his grandfather used to fish in the river, and his father even learned to swim there, he grew up knowing to stay away from it. He made it clear that his environmental career was not something he had anticipated in his youth. It was not until much later in life when he was home, working as a house painter and roofer that he got involved with the protection of the Hudson. Cronin heard that the Clear Water (the sailing classroom) was coming to the bay to sell pumpkins. When Cronin went to get a pumpkin, he met Pete Seeger, the late American folk singer and activist. Cronin described Seeger as a great man who always got you to do an extra something, which in Cronin's case was helping to rebuild a nearby dock.
In 1972, the Clean Water Act passed in New York state. It was not long after that Cronin became a part of the effort to clean up the Hudson, and in doing so he began looking for companies who were not abiding by the act. He was the first person to make a company pay a fine under the Clean Water Act by taking pictures, samples, drawing maps and then bringing the gathered evidence to the U.S. Attorneys Office. The first company he took to court ended up pleading guilty and began abiding by the rules of the act. It was then that he realized what he wanted to do with his life: "Get the big guys in trouble!"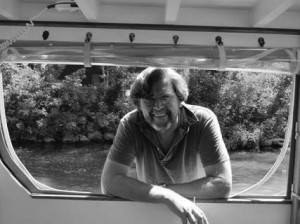 Cronin explained that although he knew what he was doing was right, other people did not appreciate his work. He said he was "standing on the shoulders of giant people who could imagine such a different river than the one we had at the time." However, those fighting to clean up the Hudson were not easily able to in the 1970s. They all suffered threats and insults. Cronin said he was harassed, even chased with a wrench and called a "Boy Scout" on separate occasions. It was not an easy time to be an environmental activist.
Cronin continued his speech by giving a little more insight into the beginnings of environmental activism in the 1970s by reading parts of speeches from former President Richard Nixon and former Wisconsin Senator Gaylord Nelson, the creator of Earth Day. He found both of these men to be very inspirational for their outspoken attitudes at a time when the world was not terribly concerned with environmental issues. Cronin read part of Nelson's speech that was given on the first Earth Day in 1970, which addressed the idea that environmentalism encompasses all of America's problems, including poverty, race and war. Although Cronin said "The breath of vision of this law [The Clean Water Act] was remarkable," he expressed his disappointment in the lack of action that has occurred since the act was instated. Forty percent of our nation's water is still unfit for fishing or swimming. Cronin exclaimed that America had "great aspirations, great goals, but we missed it all and people aren't aware."
Regardless of these disappointments, Cronin continues to have hope due to the efforts of innovators around the world. Cronin stated, "We are not making the most out of our best, we're not." However, when speaking to the audience, Cronin said he is optimistic: "Because of you, a new generation who isn't afraid of change, who isn't afraid of innovation." He also continues to be optimistic about the future because he believes that humans are "hard-wired to be compassionate." Cronin ended on a positive note, saying, "All of us bring out the best in each of us."