Bobby Lemaire, Sports Editor
The Oneonta State Men's Soccer team was officially crowned SUNYAC champions after defeating the Cortland State Red Dragons 2-1 in a thrilling final at Red Dragon Field on Saturday, November 8.  Led by Head Coach Ian Byrne, Oneonta finished the regular season schedule with a 16-0-2 record (8-0-1), earning them the number one seed in the SUNYAC tournament and a bye to the semi-finals. Oneonta won the semi-final matchup 4-0 with relative ease against the Knights of Geneseo.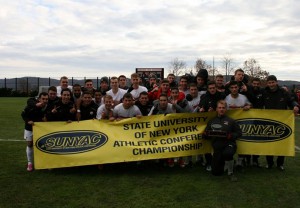 But the matchup against Cortland was going to be much tougher, considering one of Oneonta's only two ties came in the previous "Battle of the Red Dragons" matchup. Oneonta took an early 1-0 lead during the eleventh minute on Jake Sutherland's seventh goal of the season (remember that name), beating Cortland goalie Tim Beauvais. But Cortland struck back quickly, tying the game less than two minutes later off the foot of Robby Reiser, beating Oneonta goalie Vincent Pellegrino.
The first half ended in a 1-1 tie, with O-State controlling most of the play. There were various opportunities to take the lead, but many shots were off target, missing the net. The second half remained scoreless until Oneonta took the lead off a corner kick taken by Anthony Passiatore as the ball eventually landed on the head of, you guessed it, Sutherland, for his second goal of the game. While the rest of the game was mostly controlled by Oneonta, Cortland did have their opportunities. Pellegrino finished the game with four saves and the defense did a solid job defending set pieces.
As time was running out, the pro-Oneonta crowd could sense what was coming. While the team held possession, precious seconds were ticking away as the Cortland team and fans were getting visibly frustrated with the stifling defense they faced. This has been a theme throughout the whole season as Oneonta has only given up nine goals in the 18 games they have played, while scoring 50. When time ran out there was sheer pandemonium. While the players celebrated, some fans stormed the field to take part in the festivities.
After the ceremonial handshake between the two teams, Oneonta was officially given the SUNYAC trophy as Sutherland was named tournament MVP with his championship performance.
But their season is not over yet. With their conference championship victory, the Red Dragons have officially qualified for the NCAA Division III tournament. While they would have qualified regardless of this match's outcome, it was much sweeter defeating their rivals in front of a home crowd. As the number three ranked team in the country, the team will likely be hosting more home games as they try to continue this magical run. Oneonta will have a first round bye and will play the winner of the Nichols College/ UMass-Boston matchup on November 16.