Pat Boody, Staff Writer 
One of Def Jam's newest additions to their label is 24-year-old Logic. Based out of Maryland, this rapper made sure to display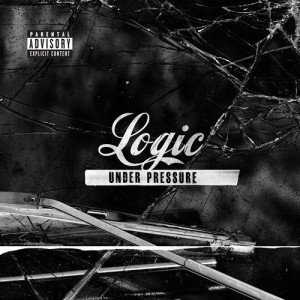 his overabundance of talent in the right manner. First starting as an underground artist, he subtly emerged in more mainstream rap. He remains one of the few modern rappers that has the ability to make respectable change to the mainstream by establishing that he will stay the sole creator and editor of tracks he delivers to the masses, not the label. After releasing countless mixtapes, he just dropped his first official album entitled Under Pressure and it has already made some monumental sales and reached the top spot on the iTunes hip-hop charts.
Logic is one of the most skilled lyrical artists who has made the transition from the underground of hip-hop to the mainstream rap scene. What allows Logic to deviate from his complacent, established hip-hop contemporaries on the scene is a yearning to tell his story through music; Under Pressure attests to this entirely. Growing up in Maryland, his parents' failing marriage, his dad's drug use and the horrors of the street all enveloped him. These negative influences are certainly important to Logic; he makes it clear that he steers clear of any sort of substance that can get in his way of being a successful artist. However, through listening to the 12 tracks on the record, you are able to gather that he does have trouble with cigarettes. He names his nicotine fix, "Nikki" in a number of tracks, a crafty choice as an addition to his biographical lyrics. There are instances throughout songs prior to this one where he mentions a love of his by the name of Nikki, this ominous woman is revealed in full color in this song.  Through his lyrics, the listener gets a strong impression that there is an incredibly intimate connection between him and this girl Nikki however, when the revelation hits Logic's creative motives are discovered as well.
Possibly one of the most admirable aspects of this album is the overall quality. There really isn't much to criticize; there is heart, tremendous emotion in his narrative that occurs in a series throughout his songs, top tier beats, excellent lyrics, hard tracks and even mellower ones. Receiving praise from fans, contemporaries, greats, underground artists and countless others, Logic has proved himself worthy of being one of the best new names in the genre. During an interview with Sway Calloway of "Sway In The Morning," Logic was asked about his success through the first week sale of his record. He responded by saying that his album wasn't produced for this specific week alone; he says that this album was a compilation of about 10 years of his life and he attempted to create a piece of art that would be admired in the present and looked back upon in the future.
Even with the release of the video for the title track, Under Pressure, fans were able to infer that they were in store for something that diverges from the rest. The video is one of the most individualistic music videos out there. It is essentially a first person shooter experience, the song playing in the background, corresponding to the actions of the shooter and his crew.
Logic has been making a name for himself through his mixtapes, but this album has really fortified his standing and will only take him further of the ladder. Already being a heavy-hitter within the game, this record is not only his greatest release yet, but can just possibly be the top hip-hop record of the year.