Richie Feathers, Managing Editor
Adding a harpist to a rock and ro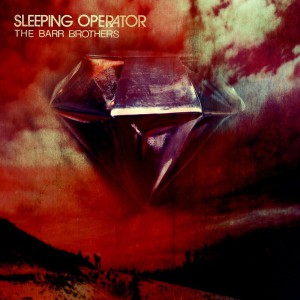 ll band might not sound like the hippest way to make music. But once Brad Barr heard his neighbor playing through the bedroom wall he was captivated. Imagining the interweaving relationship a harp could have with his own guitar, Barr eventually introduced himself to the girl next door, the classically trained multi-instrumentalist Sarah Page, and asked her to be a member of his band. Joining Barr's brother Andrew (drums/keyboardist) and bassist/percussionist Andres Vial, Page proves the harp can be as electric as any guitar.
As a collective, The Barr Brothers are perhaps one of Canada's best kept secrets. Combining their keen take on blues-rock with a gift for gentle folk and affinity for African percussion, the quartet's 2011 self-titled debut was an astonishing introduction. Its unique pace, playful tone and exciting variety made it a truly gripping listen and one of the best debuts of the past few years.
With the release of Sleeping Operator, The Barr Brothers expand on the special qualities of their first album and deliver a stunning followup.
Although beginning in the same atmospheric vein as the debut, Sleeping Operator soon kicks off with more gusto with "Love Ain't Enough," an anthemic slow-builder, Barr's vocals scaling up his register and Page's harp circulating the guitar lines and percussion. In effective contrast, the pedal steel-laden "Wolves" follows, before "Even the Darkness Has Arms" boasts staggered acoustic guitars blanketing Barr's and Page's gentle vocal interplay. The latter tune is an old staple of their live sets and a breathtaking moment that showcases the quartet's contemporary folk sensibilities.
In keeping with the debut's signature diversity, the rest of Sleeping Operator offers an exciting range of styles.
"Little Lover" begins with an African ngoni before vocal harmonies–singing what sounds like some ancient, dark nursery rhyme–layer atop a dulcimer melody and Malian rhythm. Later, "Bring Me Your Love" brings a distinctly darker mood as Page's harp sprinkles amongst the raindrops heard in the background and Andrew Barr unfurls a militaristic drum beat, clashing flawlessly with his brother's lucid singing and austere lyrics.
On the other side of the sonic spectrum, The Barr Brothers set the W.B. Yeats poem "Easter 1916" to music on the infectious and uplifting "England." Elsewhere, "How the Heroine Dies" is a quiet, mid-album folk ballad reminiscent of 2011's "Cloud (For Lhasa)" and the lilting guitar and standout vocals of "Valhallas" make for an intoxicating listen.
Yet, it's the quartet's vibrant and soulful blues-rock that cranks up the pace and pulse of Sleeping Operator.
"Come In the Water" is as striking a song as they've every done. A powerful southern ballad complete with organ, piano and gospel undertones, the track surrounds the listener in sonic waves, engulfing their inhibitions until there's nothing left to do but let go.
Failure to succumb is no less difficult on "Half Crazy," a gritty blues-rock tune structured around a raw guitar riff that presents everything the band has to offer. From Barr's swirling African drum rhythm, to Vial's commanding electric bass and Page's harp dancing in the middle ground, "Half Crazy" is an intensely gratifying piece of music.
With such a smorgasbord of styles it's a wonder that Sleeping Operator doesn't fall apart at the seams. Instead, each song is a fully fleshed out idea that adds to the appeal of the album. None of the hour-long runtime is wasted either, but it also doesn't feel like too much to take in at once – although repeated listens certainly uncover plenty of hidden moments.
The album ends with two thematic and musical standouts. Penultimate track "The Bear At the Window" is at first a gentle folk reverie, Barr searching for "A little hallelujah/To feel no pain," before erupting into an anthemic finale of blues guitar, horns and piano, an assurance to the listener that he's found it.
Finally, building slowly into a lush soundscape of sustained keyboard tones, improvisatory acoustic guitar and an angelic choir, "Please Let Me Let It Go" is the achingly beautiful conclusion that Sleeping Operator deserves.
The album not only explores deeper the exciting character of The Barr Brothers' debut, but also proves how special a foundation it is for a breathtaking record like Sleeping Operator. With the accessibility of tracks like "Love Ain't Enough" and "Even the Darkness Has Arms" and the blues-rock vigor of "Half Crazy," here's to the quartet no longer being a best kept secret.
Key Tracks: "Come In the Water," "Even the Darkness Has Arms," "Half Crazy"