Pat Boody, Staff Writer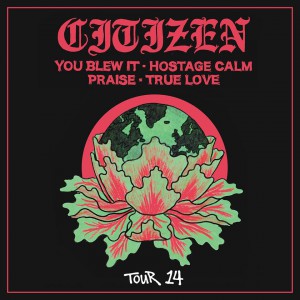 Run For Cover Records is one of the most solid labels within the punk-genre to date. With countless bands signed to their label, Run For Cover has become a powerhouse in the punk music scene, acquiring some of the best talent to represent them and what they're about; a mutual love and respect for great music. If you're a fan of any of their artists, the magnitude of skill, musicianship and pure heart manifested within the music of each signed artist's music is partly due to the record company as a whole. One of the bands that have undoubtedly made a name for themselves in recent months under Run For Cover is Toledo, Ohio's own, Citizen. Raw emotion being the medium shared between band and the music they play, Citizen is one of the current frontrunners in the contemporary punk music and Oneonta was fortunate enough to have them as a member of the Oneonta Punk Festival lineup on October 26.
The members of Citizen show the world a bit of their souls through their music. Originally formed in 2009, the band has continually met progress as a band ever since. They signed with Run For Cover Records in 2012 and have been creating quality work ever since. In the same year they were signed, they released their EP, Young States, along with a split EP, Turnover. Young States was warmly received; it also made sure to demonstrate to listeners and audiences alike that they are a band that brings forth not only an essence of great, emotionally-fueled music, but also plan to improve beyond this and put out music that one-up's previous releases.
In February 2013, Citizen released their first LP entitled Youth. This record was produced by Will Yip, a well-renowned name in the business working with the likes of Circa Survive, Title Fight, and Superheaven. Youth is part of the band's oath to give listeners a record with even more time, energy, creativeness, individualism, uniqueness, soul, and heart invested into it that has fortified their standing as a band musically. This album is reminiscent of some of great bands before them; the guitar-centered tracks of Youth emit distorted, fuzzy sounds that show some of the band's influences. The album exemplifies how the band has steadily created and produced a sound they can call their own.
Citizen has earned their reputation amongst big name hardcore bands. Arguably, because this band is unlike any other; their determination is evident through their music. Producing their first full-length record over a year and a half ago, it still holds relevance in today's music scene. They've established themselves and earned their placement as one of the leading bands of today's alternative underground.