Pat Boody, Staff Writer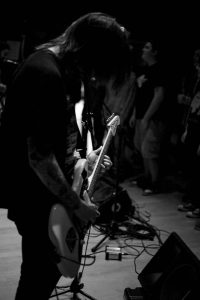 On Saturday, October 4, SUNY Oneonta hosted yet another solid show in the Fine Arts Complex room M201. The lineup consisted of Secret Pizza, Heavy Sigh, KLOZAPIN and Nothing. The Music Industry Club did a great job organizing the successful event. This show was the first of its kind in M201 this year, and hopefully more will follow.
Secret Pizza, an alternative indie rock band, made the trip from Rochester. They played a decent set after working through technical difficulties early on. Setting the tone for the bands that followed them; they were a worthy addition to the show.
Heavy Sigh, a dream-pop and indie-rock band held the second spot for the night. Hailing from Bergen County, NJ the band has a couple members who are SUNY Oneonta Alumni, and it was great to seem them return. They played songs from their most recent EP "My Quiet." The mellow and then suddenly intense and savory bass and trumpet of Eric Scholz and Gregory Maniago floating underneath the soft and lush vocals of Suzy Forman were enough to keep the audience wanting more.
Oneonta's own KLOZ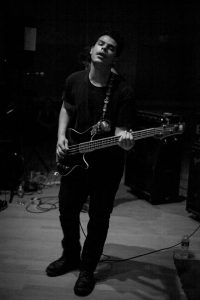 APIN was third and put on another memorable performance for their "homestead". The psychedelic punk band produced an interesting atmosphere for the audience by dimming the lights and putting on a visual show on the projection screen that correlated with the music they played. KLOZAPIN has received quite a bit of positive feedback–they recently picked up a record deal with Conquest of Noise. Their unique, intensified but hazy and obscure sound was exemplified to the fullest during this show. Conquest of Noise will produce their first LP, which is scheduled for the upcoming months.
Headlining this show was Nothing of Relapse Records. The Philadelphia natives brought a poignant vibe to Oneonta. Playing quite a few songs of their album "Guilty of Everything", they brought a heavier, more aggressive psychedelic nearing-grunge, punk blend to the night. They're a band with quite a bit of controversy attached to them, but this should most certainly be overlooked. Attesting to that was some great musicianship–during their last song their drummer was exerting so much effort it seemed as if he wouldn't make it through the end of the show. MIC did a stellar job in booking a band of their caliber and after their performance on Saturday, they'll be welcome back anytime.
Each band put on a solid performance. If you're interested in seeing KLOZAPIN, they're playing at the Oneonta Punk Festival, scheduled for the weekend of October 25 and 26. It's safe to say that this show was the first of the year that MIC has booked a semi-popular outside band to play with some of our local bands. Nothing was warmly-welcomed by bands and students alike and definitely made their mark on the Oneonta crowd.