Alex Park, Staff Writer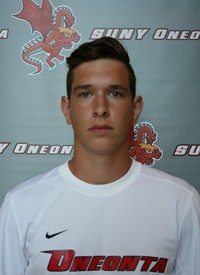 Oneonta's Men's Soccer team is no stranger to success and Oneonta is having another marvelous season. Junior Jake Sutherland, one of the many key contributors to the success of the Men's Soccer team, was able to take part in an interview with The State Times. Sutherland plays left wing and forward for Oneonta's Men's Soccer team.
A: So, tell me about the team's season so far.
J: We are currently 7-0-2, fifth in the nation, first in region. We have only conceded three goals this entire season. We've also played three top-25 ranked national opponents.
[On our play] our scoring across the board is even; it's an evenly spread attacking force. Eleven different people on our team have scored through our first nine games. That's pretty much it so far.
A: Tell me about your season as an individual.
J: So far this season I've notched three goals and two assists. I've played the second most minutes out of anyone in the team and I have three game-winning goals.
A: Do you consider it a success compared to past seasons?
J: I do. I feel like this season in particular I find it easier to have success because of the teammates around me. We've built more chemistry and come together as one, so it's easier for individual players to excel.
A: You mentioned that your team has great chemistry together; do you feel that is the biggest reason for your team's success?
J: Absolutely. Team chemistry and the fact that our defensive play has been incredible. Our defense has kept us in every game when we have been outperformed or outperforming the other team.
A: What is the most difficult problem that the team has faced this season?
J: Injuries are huge. A lot of players have dealt with injuries. When you play back-to-back games such as Friday to Saturday, especially with a game going into overtime like the game against Cortland, injuries will happen. A lot of cramps and muscle pulls. Just recently, one of our forwards tore their ACL in practice. We do have incredible depth though, so it's not as much as a let down compared to other teams.
A: Is there a specific game you're looking forward to?
J: SUNYAC Finals and NCAA Finals.
A: So you expect to be in the finals for both games?
J: Of course. What team wouldn't expect to be in the finals for both games?
A: What's the outlook for the rest of the season?
J: I feel like we have the right players and depth to continue this undefeated season. We have a lot of tough games ahead of us; Brockport is now 25th in the nation, Plattsburgh is always a tough opponent. Scranton is always tough toward the end of the year and they've always played hard. If we keep playing the way we've been playing and pushing through, we'll be successful.
A: You are a junior on this team and have been a part of this program for quite some time, knowing the ins and outs of this program. Is there a young player to look out for in the future?
J: All of the freshman that came in this year have tons of potential. Cory [Santangelo] our freshman is our lead scorer, [Jake] Sweeney is very good on the ball and has very good vision. Austin Hughes is a great center defensive mid and keeps possession well, [Brandon] Arango is lightning fast and has the ability to take on defenders one on one. Kevin Hoff is a big, strong center back that is very aggressive. Nick [Christensen] and Luke [Osovski] are both outside backs and they are very good one on one defenders and get forward very well. Finally, Evan Orlando is a center back and he is one of the best at winning balls in the air. Every freshman could grow as a player and become even more dangerous. They all have the potential to make names for themselves in the future.
A: While you are an athlete, you are a student first. How do you balance time being a student-athlete?
J: I played multiple sports in high school, so I've always been juggling time and athletics. I've developed a system to ration my time accordingly. It's tricky sometimes, especially in season, but it's not as hard as it may seem here because the professors here are always willing to help you in case you have to miss class. Coach [Byrne] is really on top of mandatory study halls to make sure everyone is doing the right thing. It's not as bad as it seems, but most of the guys on the team and myself know how to balance it out.
A: Any general message for the student body?
J: Keep coming out and supporting. We appreciate everyone that comes to the games. We especially like to see a growing crowd and new faces. We won't let you down.
Be sure to check out the next men's soccer home game against University of Scranton on October 15 at 4:00 p.m. They will close out the last two games of the season at home as well, going up against SUNY Fredonia on October 25 at 3:00 p.m. and Buffalo State on October 26 at 1:00 p.m.