Kelly Spencer, Copy Editor 
Nearly a year ago, Texas legislature passed House Bill 2, infamized by Senator Wendy Davis's 11-hour filibuster. Since then, the bill, which restricts abortions after 20 weeks among many other things, has forced the closing of 12 out of the vast state's already measly 40 providers. A study done by the University of Texas explained that one out of three women seeking an abortion in the state cannot receive one. However, this statistic is starting to change as a drug from South America is making its way to the Texas border.
Misoprostol, also known as Miso or Cytotec, was originally prescribed to treat stomach ulcers in Brazil and other South American countries. Women who didn't heed the "Do not take if pregnant" directions on the label began to realize the alternative effect of the drug. News spread by word of mouth among women who stated the drug "brought it back," referring to their menstrual cycles. It became highly popular in the country and quickly infiltrated other borders.
When taken early on in pregnancy, Miso causes an abortion with the same effects as a natural miscarriage; it has an 80 to 85 percent success rate. This outcome protects women in countries where receiving an abortion can result in arrest. Besides working for both abortions and ulcers, the drug can also treat life-threatening hemorrhaging for women post-delivery. 
The company Biolab began marketing Miso in 1988 and found that its use as a pregnancy eliminator made up 35 percent of its total prescriptions. The early 1990s brought countless regulations on Miso, and its availability legally in Brazil diminished. It is still commonly sold on the Black Market in the country for about 60 times its original value.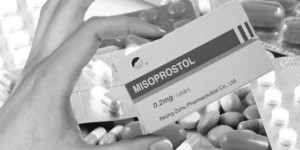 Currently, the drug has made its way from Mexico up to flea markets in southern Texas, where it is disguised in other over-the-counter drug containers. Those seeking out Miso must know what to look for. But the drug is actually legal in the United States.
The United States has a version of the drug with a higher success rate which accounts for almost 40 percent of abortions that happen prior to nine weeks. Of course, it is not available without prescription, so most seek it out on the Black Market. On its own, Misoprostol, can easily be found on the Internet, with Indian companies selling and shipping packs of the pills for around five dollars, which most women don't know. However, one must be weary of counterfeit drugs.
Texas isn't the only state with mounting regulations on the reproductive rights of women. The referendum, Amendment 1, will be on the ballot this October in Tennessee, which would not guarantee abortions for women pregnant due to rape or incest or in pregnancies where the mother's life is in danger. While 70,000 women currently die every year due to abortion complications, the restriction of this essential drug could increase that number.
Most are looking up the medicine because this "miracle drug" has a myriad of uses besides abortion, making its restriction difficult. While those in Texas and around the world are seeking Miso in alleys and flea markets, this is presumed to not last much longer, with popularity mounting worldwide.