Hannah Griesel, Staff Writer
The Music Industry Club hosted Oneonta band Bray's album release show on Thursday, September 25, in Hunt Union's Waterfront room.
The opening band was Doldrum, a new band from SUNY Oneonta that consists of only two members, a vocalist and drummer. They kicked off their set with two original songs, both with punk rock vibes. During the set, the duo told the audience that it was their first show and to excuse the technical issues that would've gone unnoticed anyway. They played five more songs, all covers that fit into the same genre.
The next band was T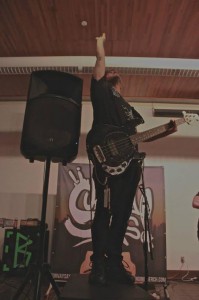 he Bailouts, another local band consisting of four members: Patrick Walsh on guitar and vocals, Billy Anderson (bass) and vocals, Levi Kranick (guitar) and Kieran Stack (drums). The Bailouts played second and grabbed the audience's attention with five sing-along covers, such as Taking Back Sunday's "Cute Without the E" and Fall Out Boy's "Sugar We're Going Down." The band noted the irony in playing a Taking Back Sunday song and a Brand New song in the same set, referencing the band's infamous rivalry, but closed with a cover of one of the latter's songs anyway.
The third act was JT Turret, a SUNY Oneonta alum. He played a medley of songs, ranging from full length to little snippets. He was great at interacting with the crowd, asking people to repeat lyrics or asking for suggestions that he would then improvise. His style was ska and punk oriented, though he dabbled in impressions of reggae music to get laughs from the crowd. Turret added a personal touch while he played, talking about the songs that he wrote while on Oneonta's campus, and telling everyone how great it was to be back at the place he got started.
Abraskadabra, a touring band from Brazil, played next. Right off the bat, the whole band was jumping, dancing and passing on their happy vibes to the audience. Three members of the sextet band played brass and wind instruments: a trumpet, trombone and saxophone. Turret, who is touring with the band and played keyboard on their album, joined in to play the keys for one song. Abraskadabra's sound was tight and happy and mostly ska. Members from the audience danced in skanking circles as the band played their set.
Survey Says, the fifth act, is also on tour with the two that played before them. Their band included brass instruments as well, though their sound wasn't exclusively ska, featuring some riffs that sounded a bit more like hard rock.
Nonetheless, their music encouraged dancing from the crowd as well. The night took an emotional turn when the lead singer talked about the passing of his father, and how it serves as a reminder to be thankful for all the people in your life who support you and make you happy.
Bray, the band of the evening, closed the show. Their set felt much more intimate than it did with the touring bands that played before them, as the band talked casually and laughed with friends from the audience. They played a number of original songs, carrying on the punk rock feel of the night.
For those interested in getting in on the excitement, the Music Industry Club has upcoming shows scheduled for October 4 and 6.