Richie Feathers, Managing Editor
Their name's origin might be a Mac keyboard shortcut, but it's still a bit of a surprise that Leeds, England trio Alt-J found such wide success with their 2012 debut, An Awesome Wave. With an off-kilter music style and vocals that span the spectrum of sneering, to intimate, to downright villainous, the band is often difficult to pin down–an acquired taste. Yet, one British Mercury Prize and three Brit Award nominations later, Alt-J has been dubbed the "new Radiohead," a compliment that could make any contemporary art-rock band dizzy.
The comparison to such an established group of musicians, however, is neither surprising nor undeserved. Certainly, Alt-J has a sonic moodiness and lead singer Joe Newman's elastic tenor recalls Kid A-era Thom Yorke at his most emotive. But what the band also shares is an undeniable uniqueness.
Alt-J's aptly titled debut boasted a number of variant styles, from the drama of "Tessellate," to the baleful "Breezeblocks" and the infectious indie-pop gem, "Dissolve Me." An Awesome Wave rarely stuck with any of these sounds for long, relying instead on an underlying air of mystery. While at times this eeriness overpowered the appeal, the album was cohesive and always intriguing–not least because of Newman's vocal incoherency.
This knack for discordant leanings is further developed on Alt-J's excellent followup, This Is All Yours. Again reluctant to settle on any one idea, the album is a landscape of electronics, alt-rock numbers and piano ballads; there's even a recorder-led interlude.
At its core, This Is All Yours is a love story, told from beginning to fatal end. But, in typical Alt-J style, it's built on dysfunction–namely, the narrator's infatuation with a woman whose corpse washes up on shore.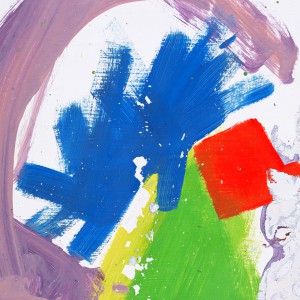 The album is bookended by references to its setting, Nara, the capital of a greater city of Japan. Newman is introduced as a young boy, frustrated by love ("Love is a pharaoh/And he's boning me") until "the greatest tide washed up my prize/You." As This Is All Yours continues, the trio unravels the vulnerability that ensues.
Alt-J explores feelings of alienation on the cleverly-titled "The Gospel of John Hurt," a slow-building rock track that erupts into a tribal beat halfway through. "Coming out of the woodwork/Chest hurts like John Hurt," Newman coos, referencing the titular character's classic scene in the film Alien.
Acoustic track "Pusher" showcases Newman's quieter side as he confronts his self-consciousness ("I lack the zest of a lemon…/Without the push of a woman"), while "Bloodflood, Pt. II" is tender, Newman singing, "Heat shimmer/Hips quiver/Open smother/Lipped lover," capturing physical intimacy with each shortened breath.
But much of This Is All Yours is also very musically exciting, having lost none of the predecessor's tone, scope or eccentricity amid the success.
The entrancing "Hunger of the Pine" is an expansive electronic construction of layers of synth and a wonderfully bizarre sample of Miley Cyrus declaring, "I'm a female rebel," from Bangerz tune "4×4." It's an effective moment for the concept of the album as it finds Newman aching for his lover: "I'm there for you, be there for me…/Sleeplessly embracing you."
Elsewhere, "Every Other Freckle" is a lustful techno track, employing deep synths over a hip-hop groove. Its sinister sound and sexual nature harken back to the debut's "Fitzpleasure."
Single "Left Hand Free" is another standout as vivid percussion in the sing-along chorus alternate with the sparse guitar line during the sinister verses, Newman recounting a brawl with a dangerous man.
Despite the niche of dark atmosphere that Alt-J has carved for itself, This Is All Yours shines brightest when the trio is at its most playful.
The irresistible "Warm Foothills" stands as one of the best tunes they've ever created. Featuring guest vocals by Bright Eyes' Conor Oberst and singer/songwriters Lianne La Havas, Sivu and Marika Hackman, the folk track is a whimsical ode to being in love. Interplaying with words instead of lines, it's a fresh take on the duet-style approach, and even with melodious whistling, strings and a shimmering coda, "Warm Foothills" never gets bogged down.
The wide tonal range of This Is All Yours is a large part of its appeal. With such a variety of realized ideas, the album shows growth where An Awesome Wave showed promise. For an album about a limp lover, Alt-J's sophomore record speaks to the vibrantly alive, to anyone who's ever been in, afraid of or felt "boned" by love.
Key Tracks: "Warm Foothills," "Left Hand Free," "Hunger of the Pine"