Hannah Griesel, Staff Writer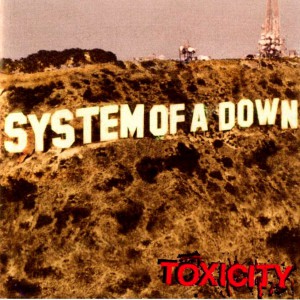 System of a Down released their second album, "Toxicity," on September 4, 2001, and it was an instant hit, debuting at number one on both the American and Canadian charts. SOAD found an audience with their self-titled debut in 1998, but it wasn't until they reached success with "Toxicity" when the first album went platinum. "Toxicity" continues to receive acclaim, 13 years since its release. It's been listed as one of MusicRadar's 50 Greatest Heavy Metal Albums of All Time, Rolling Stone's 100 Best Albums of the Decade for 2000s, Digital Dream Door's 100 Greatest Metal Albums and 100 Greatest Albums of the 2000s, Alternative Press' 25 Best Albums of 2001, Mojo's 100 Modern Classics and Blender's 500 CDs You Must Own.
"Chop Suey!," the first single from the album, is one of SOAD's most recognizable songs despite its low chart rankings. The single and the album were topping the charts the week of the 9/11 terrorist attacks, until "Chop Suey!" was deemed inappropriate for its lyrics ("I don't think you trust in my self-righteous suicide"). Guitarist, vocalist and songwriter Daron Malakian has said that the song was intended to be about how people are thought of differently depending on how they pass away and categorized into deserving and undeserving of death.
Many SOAD lyrics sound ridiculous upon first listen, but a carry deeper, often political, meaning.
"Toxicity," the album's title track, is also among the bands best known songs. Fans offer different interpretations of the lyrics. Every member of the band is of Armenian descent, and some fans feel that the song is about the corrupt nature of Armenia, describing it as toxic.
The first song, "Prison Song," is quite literal in its meaning: the corruption of America's prison system. The song touches on many issues within it, but mostly of the over-population in prisons and the government's tendency to make major criminals out of petty drug users instead of offering solutions to help the problem ("All research and successful drug policy show/That treatment should be increased/And law enforcement decreased/While abolishing mandatory minimum sentences.")
Since "Toxicity," the band released three more albums: "Steal This Album!" in 2002 as a reference to the material being leaked before its release, and the double album "Mezmerize/Hypnotize" in 2005. SOAD went on a hiatus in 2006 when Malakian and drummer John Dolmayan released an album as "Scars on Broadway." Part of the signature SOAD sound carried over into the project, with his distinctive vocals, but the album received mixed reviews. Lead singer Serj Tankian also released a solo album titled "Elect The Dead" during this time. The band reunited in 2010 and toured from 2011-2013.
There have been hints of new music by a few of the band members, but at this time nothing seems too promising.