Time Greene, Contributing Writer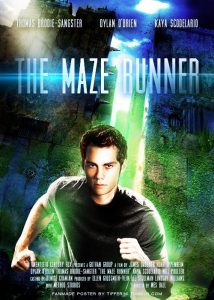 You open your eyes and see nothing. You are surrounded by darkness, a flash of light streaks by you and just as fast as it appears, it's gone. Metal grinds upon metal as you are lurched off your feet. You hear the rattle as your back slams into an invisible barrier. Another light streaks past, the light only there for a second, yet it reveals the steel-linked cage you're trapped in. As your prison continues to move another jolt tosses you about. You find the corner and sink to the floor, pulling your legs in tight.
Finally, this elevator has ascended. One last jerk and it comes to a stop, the doors above you open and a group of teenaged boys staring down at you, one joins you in the cage. "What do you remember?" he asks. You go to respond but all you can recall is your name.
That is the intro to The Maze Runner, a feature film that has just opened. Thomas, the protagonist, arrives in the Glade, a grassy area surround by the giant walls of a maze. Others who call themselves Gladers greet him and the plot quickly unravels as things start to change after Thomas' arrival; a mysterious, unconscious girl being thrust into the clearing with a note that reads, "She is the last one Ever!"
"The Maze Runner," a science fiction thriller, is based on the 2009 young-adult best selling novel of the same name written by James Dashner. In a post–"Harry Potter" world, it seems that Hollywood is looking to the sea of successful young-adult series in hopes of finding the next big franchise film. Yet, when a best selling book is found and producers get the film rights, problems tend to ensue.
Most of this book's plot is so detail oriented that it is in need of a huge budget to bring it to the big screen. At first many series such as "Harry Potter," "Twilight" were not given significant budgets to fund their first films, although they managed to accord cult followings. This is not the case with "The Maze Runner" series. With a mere $34 million, director Wes Ball, who has only made three other short films , has done a brilliant job bringing the novel to life, something that is always dreaded and feared by readers. Having read the book, I am not bothered by the big changes made in the film version. Screenwriters Noah Oppenheim, Grant Pierce Myers and T.S Nowlin came up with great ideas that are based on the main premise. It was right up until the end when this was apparent, which was a nice last minute allusion to the book.
However, not everyone who read the book might like the alterations made to the story. It is safe to say that the book often cannot be beat. I can't help but agree, although I believe Ball did a great job in capturing the main themes and elements from the book as a whole and managed to recreate a unique version for the film.
The movie could have been shortened by about twelve minutes, if they had not decided to build up for a sequel. While "The Maze Runner" is only the first book in a trilogy and prequel, I would have liked themt to have given us the answers needed and left it at this point, instead of creating the expected anticipation ridden ending. Why not make a great film, when most movies like this never make enough to warrant another film and audiences are left with unanswered questions. Sure, the books are there, but some people just won't read them.
Overall, this book to film adaption is up there with "The Hunger Games" and "Divergent." If you are looking to get off-campus and want to see a movie, the eight bucks you will pay won't be wasted on this film. I give it an 8 out of 10.