Pat Boody, Staff Writer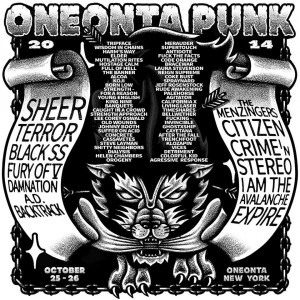 Oneonta's music scene has become increasingly renown in upstate and central New York. Many artists, local and foreign to the area, have come to play at both on and off-campus venues in "the city of the hills." On Saturday, October 25, and Sunday, October 26, Oneonta will be hosting one of the largest music events to come to the city in years. Oneonta Punk 2014 has an astounding amount of bands scheduled to play – over 60 to be exact.
SUNY Oneonta Senior Jordan Reiley is the proud founder and coordinator of Oneonta Punk. The event is not only made special by its impressive lineup but by the fact that all proceeds will go to the Crohn's & Colitis Foundation of America. This choice was not made without thought; Reiley, although not personally afflicted by the disease, has been significantly impacted by it. He has witnessed his younger brother suffer with the disease for years.
Oneonta Punk will be held at two popular music venues in town: Gallagher's Pub Club & Grill and the Oneonta Theater. It will include a variety of artists and bands from the punk rock genre, although primarily regarded as a hardcore festival. With bands such as Born Low, Reign Supreme, King Nine, Code Orange and Expire to name a few, this show will not only appeal to quite a few students, but will also attract people statewide and beyond. Ticket sales have arrived from places as far as Sweden, Australia and Canada.
Reiley told The State Times that he began to organize Oneonta Punk last March and has been working on putting it together ever since. He admitted that this was not his first foray into booking bands. He has been organizing shows for approximately two to three years, including many shows throughout Oneonta. Even more astonishingly, this isn't the first large-scale festival Reiley has put together. When he was 14, he booked a smaller hardcore festival-style show, although the show unfortunately didn't yield as positive of an outcome. An audience member was injured and Jordan had a lawsuit brought up against him and his family. Following this traumatic event, Jordan had steered away from the producing aspect of the hardcore scene until recently.
After seeing the Long Island-based hardcore band, Crime in Stereo play one of their last shows, his temporary hiatus from hardcore came to an end.  Coincidentally, Reiley managed to book Crime in Stereo for Oneonta Punk. Reiley explained that the booking process was not an easy feat, but something that has taken months to bring to fruition. Although some bands were easier to get on board in comparison to others, many of the bands are self-managing artists who simply require a bit of reaching out to, while other artists with agents require a more in-depth process. A few bands dating back to an earlier era of hardcore, actually required an even greater amount of work. For instance, some of the band members and associates had to be tracked down via Facebook; often times this first lead wouldn't even end up being the person Reiley was looking for. Overall, the booking process was certainly not a stress-free one. But after months of determination and persistence, Reiley and many others involved are excited to see everything come together as the date rapidly approaches.
The essence of the hardcore genre and community may be seen in the festival. Inherently a non-materialistic genre of music, all the bands gladly accepted the fact that proceeds are going to a worthy cause. The hardcore genre, like many other forms of music is, about a sense of community; a joining together of people who have commonalities and shared interests to form a tight-knit group of people. Oneonta Punk will unify those music lovers who are passionate about this variety of music and its surrounding genres and give them a chance to support a worthy cause. With a lineup as stacked as this one, Oneonta Punk is predicted to sell out.
If      you    haven't already, purchase a ticket at oneontapunk.com and for more information about Crohn's Disease and ulcerative colitis, log onto ccfa.org.