Ryan Hendrickson, Staff Writer
While warm weather and sunny days are hard to come by at SUNY Oneonta, one thing that this school has in abundance is an established music scene. On any given night, there are numerous student bands playing throughout town. While all of these groups are talented, one that truly stands out is KLOZAPIN. With a sound that can only be described as a smooth synthesis of punk, psychedelic and a little bit of pop, this relatively young band has quickly made a name for itself amongst the student body. Formed last winter by lead vocalist Mitchell Todorov, bassist Paul Levine, drummer Nick Connor and lead guitarist Niden Kolev, KLOZAPIN shows are now a regular occurrence on campus, at the bars and house shows. In fact, the band's reputation has led to a record deal with the label Conquest of Noise, with their first LP expected to debut in the coming months.
In order to get an inside look at this up-and-coming success story, I was able to sit down with KLOZAPIN's bassist, Paul Levine. Although busy with the stress that comes along with being a student, the interview, like the band itself, had a laid back and easy going feel.
When asked to describe KLOZAPIN'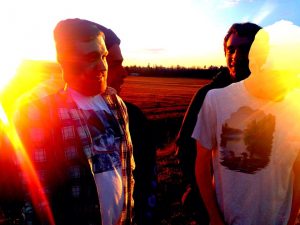 s sound, Paul simply answered, "KLOZAPIN's music is an overwhelming of the senses, just like life." When asked about the fact that they will soon be releasing their first album, all Paul had to say was, "It's kinda hard to imagine that this is actually going to be a thing. I think it's crazy. I don't know, it feels good."
While Paul's answers are humble, the way he carried himself during the interview gave off a sense that he knew his band had something special to offer. A feeling in which the student body seems to share. Every show the band performs draws a rowdy and engaged crowd. And with an album on the way, that crowd will only grow larger.
Lead vocalist and SUNY Oneonta Alumni, Mitchell Todorov told The State Times about how KLOZAPIN is experimenting with both their music and their live performances, "We're going to be playing with abstract videos playing behind us in what we hope will be a pitch black room. Some of the visuals were actually used for an experimental music ensemble concert this past spring, but most of it is brand new distorted and twisted footage." Todorov also spoke about what he believes the essence of KLOZAPIN's music to be, and how he hopes their listeners percieve it, "Our music sounds very colorful and hopefully when people hear it in the right context it puts them into a kind of trance or at least a different state of mind." This is a valid description of many of KLOZAPIN's tacks of their first, self titled LP. Songs such as, "Hivemind" with its wavy, hazy tones that make you feel as if you are floating through space. Or the track, "Wasting Away" its funky bassline and twinkling lead guitar kay beneath the catchy vocals of Levine and Todorov.
The LP as a whole is an experience the entire band wants you to join in, according to Todrov, "We're really excited about getting it into everyone's ears but it was a pretty slow process. We did most of the recording back in February and March and mastering took a really long time because we recorded it in an unconventional and makeshift way."
If you've somehow managed to go the past year without hearing of KLOZAPIN or checking out one of their shows, it's time you go and see what all the hype is about. On October 4, KLOZAPIN and three other bands will be playing at the Fine Arts Building on campus at 6:30. After that, the next set performance is for the much-anticipated Oneonta Punk Fest, which is taking place on October 25 and 26. At this festival, KLOZAPIN will be performing alongside some of the biggest names in the hardcore and punk scenes. The tickets, which are on sale now, will without a doubt be worth every penny.
KLOZAPIN is a one of a kind band. The music they play is like nothing else out there, and the people that make up the band have the determination needed in order to make a name for themselves, coupled with the talent to back it up. With an album on the way and several shows in the upcoming months, anyone who has a semblance of an interest in music should come check this band out.
Paul Levine, summed it up best when asked why people should go see KLOZAPIN shows: "We're not trying to follow a gimmick. It's a real original sound, like nothing you've ever heard before." I could not have said it better myself.