Mike Jaycox, Contributing Writer
The State Times met with Bray, an emerging force in the Oneonta music scene. A three-piece o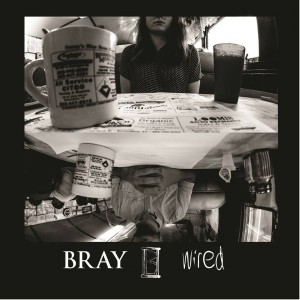 utfit blending post-hardcore and alternative rock sounds, Bray consists of singer/guitarist Frank Funigiello, bassist/backing vocalist Kyle Sisco and drummer/backing vocalist Nate Wind. Their much-anticipated full-length album "Wired," was released September 16 and can be found on Bandcamp, Spotify and iTunes.
Mike Jaycox: Tell me a brief history of your band. How did you form?
Frank Fungiello: Bray formed nearly a year ago. A couple of our friends, namely Elio Vezza, mentioned that we should try out for the Red Dragon Records signing with the Music Industry Club. So we decided last minute to try out for it with a song we put together that is now called "Dial Tone," and ended up winning and getting signed to the label. We were beyond shocked, considering we had only been officially a band for about two weeks. So over the next school year we recorded a full-length album with Red Dragon Records and just released it this past Tuesday. We all met our freshman year in Golding Hall and jammed a handful of times together. But only last October we decided to actually start a band.
MJ: As one of the many bands in Oneonta, I think you could all agree that you have the privilege of being part of a very diverse music scene. What do you enjoy most about the Oneonta music scene?
FF: Definitely. We're extremely lucky to be a part of such a diverse, supportive and dedicated music scene. It's great to be in a scene full of variety and friendly musicians. My favorite part about the Oneonta music scene is the fact all the bands are so supportive of one another. There's always something going on. It's hard to find a day where you wouldn't be able to go see or play music. It has become its own living entity that is constantly moving forward and expanding.
Nate Wind: The Oneonta music scene is one of the main reasons I chose to attend SUNY Oneonta for undergrad. I saw what kind of bands would tour through here and heard about the caliber of bands coming out of this town and thought, "Wow, I would love to be a part of that." For such a small town, it's a huge scene. And I'm so grateful to be a part of it.
MJ: You guys are signed to Red Dragon Records, Oneonta's own record label run by the Music Industry Club. What has it been like for you?
FF: It was a great experience for us. Even with all the challenges involved, I feel that it has helped us to grow as musicians and become stronger collectively as a band and individually. There were many long days and nights where we'd have 10-hour sessions trying to power through songs. Alex Sader, who was the main driving force in the recording process, actually let us crash at his house for one of our breaks and we spent five days straight in the studio pulling ten to 12 hour days trying to bang out a huge chunk of the album. Then when finals week arrived in spring semester last year we spent the week prior to finals week and finals week to wrap up the album. With the help of Matt Wilbur and Mike Deyo we tried to fit in recording time whenever we could get in a studio. We got everything done with a lot of close calls for deadlines. It definitely challenged us in many ways physically, as musicians, and mentally. I enjoyed every second of it even when stress levels went through the roof worrying about grades, if the album would be done on time and when the frustration set in.
NW: Working on this album with Red Dragon Records was great. Financially, this is every college band's dream. The actual recording process was definitely an adventure. And like Frank said, it was full of unforeseen hurdles that we had to get over. But I'd do it again. The days were long, but we're better musicians and a better band because of it. It forced all of us to push our boundaries and do things we didn't think we were capable of. This album is the result of blood, sweat, tears and lots of laughs. It was exhausting, but it was so much fun at the same time, and I'm really stoked on the final product. This album came out better than I could have hoped!
MJ: Let's talk music. What's the writing process like for Bray?
FF: The writing process changes for us depending upon the song. I wrote all the lyrics and guitar parts and saxophone parts for the album. The songwriting process usually begins with me, then I'll bring it to practice and we just jam for a while on whatever ideas I have and see where it takes us. More often than not, Kyle and I will sit down prior to practicing amped up and just jam on ideas acoustically and try to lie out some sort of foundation. Then we'll bring what we have to practice and try to put something together. Other times I will have a clear idea for how I was intending something I wrote to sound altogether and see what they think about it. From there we play around with it and eventually it molds into something we all like. I just have such a wide palette of a musical taste that I have a hard time not wanting to experiment with different sounds and styles. I get bored often, so I like to write different types of songs that cross genres and blend things together. What I'm listening to at the time really comes to play in my writing.
NW: The album is definitely a blend of a whole bunch of different sounds. Usually Frank will tell me he's got something new written and we'll sit down and he'll play it acoustically and I'll listen to it and drum on my lap or whatever. Different parts usually flood my head regarding what I want to do to try to really accent the important elements of what he already has written. How I look at it is, as the drummer, keeping time is only the most basic part of my job. My job is to do whatever I can to make Frank and Kyle's parts sound the best that they can. So I try to really write parts that emphasize the climaxes, low points, et cetera. of the songs. My job in writing is to make the song really punch–or not–depending on what it needs and to help to further emphasize the overall message and feeling of the song.
MJ: What are your musical influences, and what inspires you all to write?
NW: I grew up listening to a lot of blues, alternative rock and grunge because that's what my dad always played in the car. But since then, I've had a lot of experience with a ton of different styles of music, and found an incomparable love with punk rock. I learned how to drum by just playing along with old Green Day, Paramore, Fall Out Boy and blink-182 albums that my friends and I had in our CD collection. So I guess a lot of my musical influence naturally comes from those bands, considering they paved the way for my love of rock music. I've picked up a lot of techniques from Travis Barker (blink-182), Michael Kennedy (The Wonder Years) and Paul Koehler (Silverstein), among other drummers of bands I enjoy. And as far as inspiration for writing and playing music: it's the only time I'm truly content and happy and it really is my sanity. For that reason, I write and play music and would like to do it for as long as I can.
FF: My musical taste spans many different genres. My dad is a big music lover, though he has only recently started picking up the drums over the past few years. He has a huge record collection that he's built growing up and I have been exposed to it as I was growing up. I could endlessly list tons of artists and bands. My primary instrument is the alto saxophone, so from playing that for 12 years now I have grown to love jazz and classical music,and it's a huge influence in the music I create. As I got into middle school and high school I listened to a lot of harder rock, punk, metal and alternative rock. I still listen to a lot of that stuff, but I have since moved away from the heavier music and now exploring rap, R&B, funk, indie, blues, alternative rock and diving more deeply into jazz. Like I said earlier, I just get really bored from listening to the same type of music all the time, so I have to keep it fresh and go between genres. Though there are some bands/artists I just never get tired of, such as Thrice, Brand New, Silverstein, Led Zeppelin, The Early November, Saves The Day, Van Halen, Charlie Parker, Thursday, Finch and Bill Evans.
MJ: What are your future plans with Bray? Any plans to tour?
NW: We'd love to get out on the road in the near future, at least for small stints of tours or even weekend road trips to play shows outside of Oneonta. I have been contacting colleges and venues all around New York State and so far there is nothing concrete as far as touring. But I'm spending a good chunk of my spare time contacting everyone that I can to try to land us shows in other parts of New York State for now.
FF: We have a lot of ideas that we want to get rolling on before we all graduate. We're dying to tour and/or just get outside of Oneonta and play shows in other areas and at different schools. We've been looking into possible show opportunities outside of Oneonta, and we're also talking about recording more music. Right now we just really want to get our album out there for as many people to hear as possible. We also are trying to play as many shows in Oneonta to live up our last year and make the most out of it. Most of my goals currently for the band is just trying to write a ton of new songs and see what happens with them, as well as promoting our release.
MJ: What's your favorite song to perform live?
NW: I'd have to say "Dial Tone" is my favorite to play live. It's just so energetic and the repeating line at the end that says "I'm so sick of this" usually get the crowd going because it's something easy to pick up and shout back at us, which they often do. I also really love playing "The 24th Flavor" and "Fishing With Hand Grenades" because they're just really fun drum parts.
Do yourself a favor and go pick up "Wired" today. Bray is an incredibly hardworking band, full of down to earth musicians who contribute well to Oneonta's vivid music scene. You can hear "Wired" live on Thursday, September 25, at the Hunt Union Waterfront as part of their CD release show, along with Survay Says and Abraskadabra.